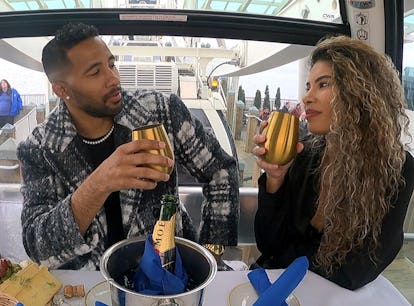 Jackie & Josh From Love Is Blind Broke Up & Jackie Explained Why
Apparently, it involved another contestant.
Another Love Is Blind couple bites the dust, and it sounds like the split involves another contestant. From the start, Jackelina and Josh faced a pretty rocky relationship, but despite their early messiness and fan criticism, they stuck things out for over a year. However, shortly after Season 4's Love Is Blind: After the Altar special aired in early September, Jackie revealed that she and Josh had officially broken up. And if you saw how those episodes ended, then you already have a good idea of the reason for the breakup.
During an Instagram Live on Sept. 18, which was recorded and shared on TikTok, Jackie detailed why she and Josh ended their relationship. She mentioned fellow castmate Monica, whom Josh had gotten engaged to before he started seeing Jackie. The After the Altar special showed Jackie and Monica having a conversation, before Josh jumped in and insisted Jackie stop talking to her.
"Instead of ignoring it like I was told by him, I ended up having a conversation with her, and that's the reason why we broke up," Jackie said in her Live.
Jackie went on to imply that Josh was the one who broke up with her over the conversation. "Still sick about it low-key, I love that man," Jackie continued. "I was like, 'Damn, I had all these life plans with you, and then you just don't even care.' And I'm like, that's crazy. Over a conversation with somebody? It don't matter. I tried to fix it. I tried to mend it. I did everything I could."
The breakup comes a little over a year after Jackie and Josh first got together while filming Season 4 of Love Is Blind. Their relationship was controversial, as viewers criticized how quickly Jackie moved on from her engagement to Marshall as well as Josh's headstrong attitude. The backlash was so intense that they didn't show up to the live reunion, pre-recording a brief interview instead. Despite it all, they remained together for over a year, until that After the Altar blowup ended everything.