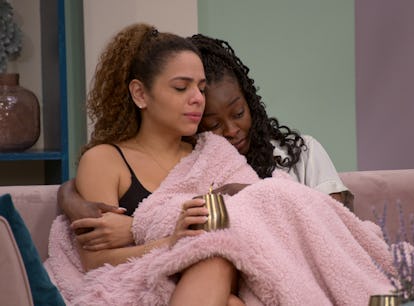 Aaliyah Reveals Where She Stands With Lydia After Filming Love Is Blind
Their friendship was so up and down.
Netflix
Spoiler alert: This post discusses details from the first seven episodes of Love Is Blind Season 5.
The actual messiest relationship on Love Is Blind Season 5 wasn't a romantic one. Lydia and Aaliyah's friendship reached the highest highs of supportive BFF-dom, until one secret ruined everything, causing Aaliyah to rethink her one-time bestie's intentions in ever getting close to her. But where do the two stand now, after filming the show? Aaliyah explained her feelings about Lydia to Elite Daily.
In the first few episodes, Lydia was Aaliyah's source of emotional support as she went through the wringer in her relationship with Uche. After Uche grilled Aaliyah over past infidelity, it was Lydia who comforted and reassured a crying Aaliyah as she worried her relationship may be over before it even really began.
However, when Uche later revealed that he was dating Lydia shortly before they both entered Love Is Blind, a switch flipped for Aaliyah. She left the show after a disagreement with her former friend, ghosting Uche right before he was about to propose.
But Aaliyah isn't holding a grudge against Lydia at all. She tells Elite Daily that she and Lydia are in "a great place" after the show.
"We're in a place where I feel like we both mutually respect one another as women," Aaliyah says. "I feel like we both want each other to be happy and at peace. I think that's a great place for us to be in."
While Aaliyah may have left her drama with Lydia in the past, Uche clearly has not. After he officially ended things with Aaliyah, Uche made it his mission to air all of Lydia's dirty laundry when the Season 5 cast reunited for a night out after the pods.
He accused his ex of invading his privacy when they were together and claimed that a number of his friends had told them they noticed Lydia constantly watching their Instagram stories. Of course, the confrontation got heated fast, with Lydia firing back that Uche had slept with someone else while she was dating him.
With all that drama going on, it's probably for the best that Aaliyah ran for the hills when she did.