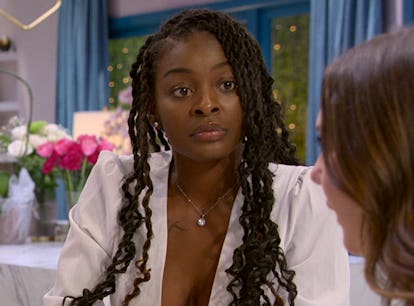 Aaliyah Says She Still Talks To Uche After Love Is Blind
She's still in touch with her ex.
Netflix
Spoiler alert: This post discusses the Love Is Blind Season 5 finale and reunion.
Aaliyah and Uche's love story looked promising at first until it suddenly crashed and burned when Aaliyah disappeared from the pods. Although they had a brief discussion about maybe trying again in the real world, their IRL meeting ended with a definitive breakup. That doesn't mean they aren't on speaking terms anymore, though. Aaliyah tells Elite Daily that she still talks to Uche and that their post-show relationship is a positive one.
"We're in touch every now and then, but it is not problematic or anything," Aaliyah says, after noting she's also cool with Uche's ex Lydia. "We have a very positive interaction each time we talk."
While their relationship in the pods was cut short after Uche revealed his past relationship with Lydia, causing Aaliyah to get into a disagreement with her former friend and leave the pods, the almost-couple did get some closure when they met face-to-face for the first time in a restaurant.
Though the situation was uncomfortable, Aaliyah says it was overall a good interaction.
"The circumstances were a little different than what I would've wanted ideally, but it was actually nice," Aaliyah says. "I feel like we both acknowledged that we created something in the pods that we hadn't experienced before, so it was nice to reconnect, for sure."
The revelation is pretty surprising, given everything Aaliyah had to say about Uche during the Season 5 reunion. After revealing she's moved on to dating a new man, Aaliyah said she'd completely closed the book on Uche.
Later, as everyone else at the reunion began venting their frustrations about Uche, host Vanessa Lachey asked if anyone from the cast still speaks to him. Only Milton responded, saying that Uche will often text him, but he never responds.
During their lunch together, Aaliyah admitted to Uche that she regretted how she ended things, and even told him she would still be open to marrying him if he wanted to try things again out of the pods. But Uche shut down those prospects, saying that he didn't think Aaliyah had shown enough faith in the relationship they had built.
Aaliyah says she was not surprised that Uche chose to end things there, so she must have been expecting that reaction going into the meeting.
This article was originally published on