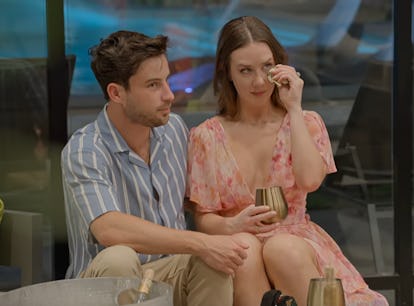 Chris Says Izzy's Love Is Blind Fight With Johnie Didn't Affect Him
He was in the middle of all the drama.
Netflix
Spoiler alert: This post contains spoilers from Episode 8 of Love Is Blind Season 5.
Love Is Blind fans didn't have to wait until the reunion for all the drama to go down this season. When the whole pod squad reunited for what was supposed to be a chill catch-up, everything exploded when Izzy pulled Johnie aside for a confrontational chat. Soon, Izzy's fiancée Stacy got involved as well, calling Johnie "sketchy" and accusing her of lying... all while her boyfriend Chris watched in shock. But surprisingly, Chris tells Elite Daily that he wasn't affected by the heated exchange at all.
"It's a little uncomfortable hearing people say negative things about the person that you're in love with," Chris admits. "However, I didn't see those things about her. I see her as an incredible, smart, intelligent woman. If they felt the need to get that off their chest, so be it, but it just kind of bounces right off my head and washes away."
During the confrontation, Izzy accused Johnie of telling him and Chris conflicting stories in the pods, and Stacy piled on, calling Johnie "a sh*t person." As things got more intense, Chris was awkwardly sitting in the middle, sipping from his gold cup.
He says that despite how Izzy and Stacy laid into his girlfriend, he doesn't hold any ill will toward them.
"We all focused on our own personal relationships, and I can't fault Izzy, or Johnie, or Stacy for doing what they thought was the best for them," Chris says. "So, me and Izzy are cool, all the guys are cool. I have no drama with anybody on the whole cast, guys or girls."
Though Chris' relationship with Izzy was uncomfortable from the start, given that they were both exploring things with the same person, Chris says that he never felt any animosity toward Izzy.
"There was a time where, after Johnie had ended things with me for Izzy, I was back in the lounge, and I don't even think I knew at the time, but Izzy was supporting me in the lounge, like, 'Hey, you're going to get through this. Keep your head up,'" Chris recalls. "It's a weird thing that you can only experience through this experiment. We're all dating the same people, but we're all here supporting each other, too."
New episodes of Love Is Blind drop Fridays on Netflix.