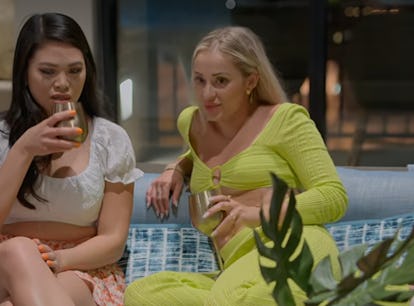 LIB's Renee Thinks She Knows The Reason Her & Carter's Story Was Cut
She says she was scared to be alone with him at one point.
At this point, Love Is Blind superfans already know each season has a few more engagements than are actually shown, but one unshown Season 5 couple made it all the way to the altar — despite the show completely cutting out their love story. Some suspicious screenshots, Instagram posts, and marriage records all indicated that Renee and Carter, two of the bigger personalities in the pods, did get engaged, and even went to Mexico, but Love Is Blind edited around their romance. And after all the theories about why their story was deleted, Renee is finally speaking out.
Compared to previous seasons, Love Is Blind Season 5 had very few central couples. One of the reasons for that was that one of the engagements the show was planning on following had to be deleted. Renee, an outgoing veterinarian who was pretty heavily featured in the first batch of episodes, and Carter, a joke-cracking construction worker, got engaged in the pods, and even got to go to Mexico with the other three couples.
Before Renee revealed all the details in a tell-all podcast appearance, she dropped hints about her relationship with Carter by sharing a meme on Instagram, and tipped off eagle-eyed fans that they went to Mexico by posted a photo of herself on the beach with one of the show's signature goblets, writing about her "vacay" right after the Mexico episodes dropped on Netflix.
Viewers also caught on to the deleted couple by posting screenshots of the Mexico episodes on TikTok, pointing out someone who appears to be Carter sitting on the beach with the couples.
Most revealing of all, fans tracked down Renee and Carter's marriage license by searching a county clerk's marriage records online. The records show that the couple was issued a license, but that it was returned, indicating they didn't go through with the wedding.
Renee finally addressed everyone's suspicions in an interview with Popsugar.
"We did get engaged in the pods, and we were chosen to be followed for the rest of the journey," Renee said. "We did go all the way to altar, but we did not get married. We fell in love with each other in the pods. We were very excited about everything, and things went really well in Mexico as well. We were always very pleasant, funny, happy, and enjoyed each other's company. But once we got back to Houston and back to the real world, I started noticing things that I kind of ignored or blew off that were red flags I should have picked up on. And eventually I did say 'no' at the altar."
So, why erase a couple that went all the way to the altar? One viral theory was that Renee was secretly dating someone else the whole time, and production found out. The basis for this theory is another wedding record, which shows Renee got married to another man at the start of 2023, a little over half a year after the Love Is Blind weddings took place.
However, Renee shut this speculation down. "I was never in a relationship. During casting, I was single, and we didn't film for about eight months after, and I was single that whole time." Renee went on to confirm she did get married to her current husband in March, but wants to keep any further details private.
Renee explained why she believes production deleted her engagement to Carter during an interview on Deepti Vempati and Natalie Lee's podcast Out of the Pods. She alleged that Carter had anger issues and emotional manipulation, and claimed the show probably didn't want to highlight such a toxic couple.
During the interview, Renee told various stories about Carter's worrying behavior, including instances where he allegedly became aggressive and "threatening" towards the camera crew in Mexico. When they moved in together, Renee said Carter's irritable behavior began to scare her so much that she didn't feel safe being alone with him, and producers allowed her to live separately from her fiancé.
Their relationship had other major issues, too. Renee said Carter was unemployed and had "no money," and revealed that she found out he had allegedly cheated on her right before their wedding day. Neither Carter nor the Love Is Blind production team has commented on the reason the engagement was removed from the final edit.
But in Renee's perspective, the main reason her and Carter's story was cut was likely because producers didn't want to showcase an allegedly abusive couple in light of the lawsuit another Season 5 contestant had filed against the show.
This article was originally published on