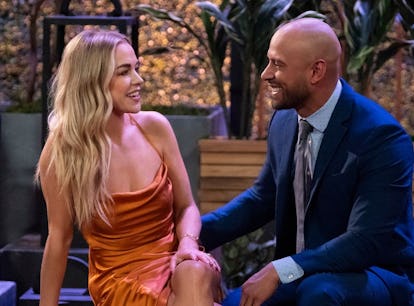 Watch Stacy Discover Izzy's "Lost & Found Drawer" In This Exclusive Love Is Blind Clip
Netflix
It's move-in season on Love Is Blind. Well, more so for Stacy Snyder and Izzy Zapata. After three episodes of an emotional (and sometimes, complicated) tango, the duo left the pods as one of three engaged couples of Season 5. If that status wasn't secure enough, Stacy and Izzy are stamping their relationship official by moving in together. Elite Daily has an exclusive first look at the couple's next step, and it seems it's already starting on an awkward note.
In an exclusive clip from the upcoming episode premiering on Sept. 29, the newly-engaged couple is figuring out the layout of Izzy's apartment. Specifically, Stacy notices that Izzy doesn't have a nightstand next to his bed. "So, you don't do nightstands?" She asked while standing in the empty corner. Izzy then revealed that he threw away his original stand when he moved into his apartment.
While his response sounds reasonable, he flexes another reason as to why he might not have a lot of furniture: He's a bachelor. He began to explain; however, Stacy playfully cut him off. "When you're a bachelor, you have certain people over all the time," she said. "And those people love to [have] a nightstand to put their jewelry on..."
At this point, Izzy's self-proclaimed bachelor status bubbles to the surface. Instead of having a nightstand for guest's jewelry, he reveals he has a "lost and found" drawer in his bathroom. That revelation leaves Stacy speechless and she curiously follows him to check it out. True to its unofficial label, the cluttered space features random items like earrings, a hairbrush, deodorant, and condoms.
"I'm a very responsible guy," Izzy jokes as he pokes through the drawer. Stacy, still a bit stunned, asks who all the items belong to and Izzy shrugs his shoulders that he doesn't know. "At this point, no. I've been here for about a year and a half now."
His then nonchalantly reassures Stacy that he wants to be an open book with her. It seems unveiling his "lost and found" drawer was Izzy's first step towards honesty; however, it left an odd taste in Stacy's mouth. In her solo confessional at the end of the clip, she found the entire situation as "immature." She said, "Throw it away, especially if you don't know who it belongs to. Why are you keeping it?"
This interaction feels like a nod to Izzy's dating past, and if he has any more corners in his space similar to his drawer, it might be time to retire them.