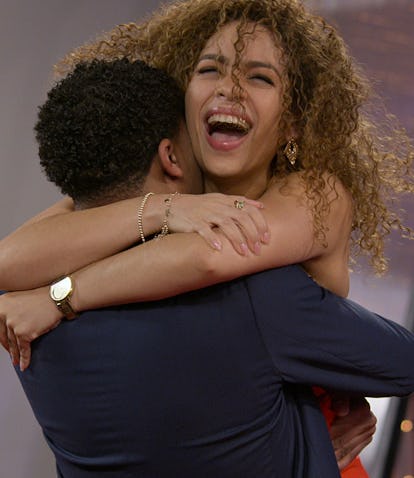 Here's That Love Is Blind Relationship Status Update You've Wanted
Netflix
Spoiler alert: This post discusses the Love Is Blind Season 5 finale and reunion.
We finally have answers, Love Is Blind fans. All throughout Season 5's tumultuous ups and downs, viewers have wondered what's actually going on with these people now. Could Lydia and Milton's marriage really last? Is there any hope for Izzy and Stacy to rekindle their relationship? Would any woman want to date JP after hearing his make-up rant? The reunion cleared up all those questions and more.
Probably the biggest question on fans' minds was addressed right away at the beginning of Season 5's reunion, and it came as a surprise to a lot of viewers. Despite their fraught relationship throughout the season, Lydia and Milton were really able to make it work. The couple confirmed that they are still married to this day.
But not everyone got their happy ending. The rest of the split-up couples didn't find their perfect match in the pods, but some of them are pursuing new romances right now. Here's everyone's relationship status these days.
Lydia & Milton
The only Season 5 success story, Lydia and Milton revealed they are still happily married over a year after filming their wedding.
Izzy
Fans got spoiled on Izzy's post-show relationship status even before the reunion, due to paparazzi photos catching him on a date with a mystery woman. At the reunion, Izzy confirmed he's been dating someone for a while now, adding they were flying off for a trip together right after filming the reunion.
A few days after the reunion, Izzy revealed his girlfriend, Shelby, on Instagram, showing off the matching "Yes, chef" tattoos they got after their cooking class date together. Izzy's ex Stacy showed her support in the comments, writing "Cuties" with a heart emoji under the photos.
Stacy
Although Stacy avoided outright confirming she's dating someone during the reunion, she did talk about some dates she's been on since splitting up with Izzy, and host Nick Lachey was able to deduce she's most likely in a new relationship these days.
Chris
Turns out, Chris and Johnie's post-pods relationship only last for a short while. He confessed he cheated on Johnie during the reunion, and is still dating that other woman now. It's pretty serious, too, as he revealed he's living with her.
Johnie
Johnie also started seeing someone else after her breakup with Chris. She revealed she's been dating this guy for about a year by the time of the reunion.
After the reunion, Johnie revealed her boyfriend on Instagram, posting a collage of romantic moments of their past year together. She wished her BF, an aerospace engineer named Alex, a happy one-year anniversary.
Aaliyah
Aaliyah didn't wait until the reunion to make her big announcement. A few days before the Season 5 finale, she posted a romantic montage of her new boyfriend. And that boyfriend may actually be a fiancé, because Aaliyah appeared to be wearing an engagement ring in the video.
Uche
The villain of the season, Uche decided not to show up to the reunion at all. He confirmed he briefly dated Aaliyah after filming, but their relationship didn't last long.
After the reunion, Uche posted a suspicious photo to Instagram, which seemed to show the shadows of himself and a woman holding hands. Fans took it as a hint that he has a new girlfriend.
Uche finally confirmed he is in a new relationship during an interview on the podcast Miss Understood with Rachel Uchitel. He didn't get into too many specifics, but said he has taken what he's learned from the Love Is Blind experience into this new relationship.
JP
At the reunion, JP revealed he's been dating a woman for about a year.
Taylor
Taylor's post-show romance didn't sound as serious at the time of the reunion. She confessed she was "seeing someone," but was explicit that they were just "seeing" each other and not dating.
However, it looks like things have gotten more serious since then. Taylor hard-launched her new boyfriend Cameron in a romantic Instagram post.
This article was originally published on