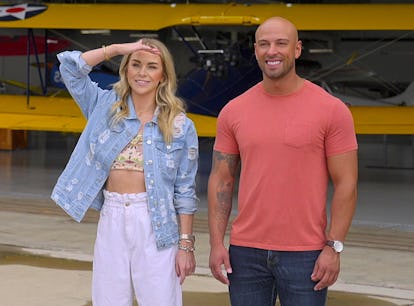 Here's The Tea On If Izzy & Stacy Are Together After Love Is Blind
Netflix
The love wasn't exactly flowing on Season 5 of Love Is Blind, which has been filled with dramatic breakups, explosive fights, and unbelievable deceptions. But while nearly all of the other couples of the season fell apart, Izzy and Stacy seemed like they were actually going to go the distance. However, days before the big finale, some suspicious info leaked that seemed to reveal whether Izzy and Stacy actually stayed together after the show.
Spoiler alert: This post discusses the Love Is Blind Season 5 finale and reunion.
The fate of Izzy and Stacy's relationship was difficult to predict for a while, given how rocky their relationship has been. Even in the pods, Izzy kept going back and forth about potentially proposing to Johnie instead of Stacy. In the real world, Izzy and Stacy had a brief honeymoon period where everything seemed perfect, but that quickly devolved into a nonstop string of arguments over finances, living situations, and differing expectations.
They'd fight, but they'd also always make up. So, could this tumultuous twosome really make a pairing that lasts?
Well, TMZ spilled the beans early. The publication shared photos of Izzy getting cozy with another woman on Oct. 4. The two were seen at a tattoo parlor in LA, seemingly on a date.
It may not have been enough to outright confirm that Izzy and Stacy were no longer together, but it was definitely sus.
At the reunion, Izzy and Stacy confirmed everyone's suspicions, revealing that they went their separate ways after their non-wedding.
The breakup was particularly hard on Izzy, who admitted he struggled to respect Stacy's request that they stop communicating for a week after the ceremony. As they put it, Stacy wanted to restart their relationship from the beginning, but Izzy didn't feel that was possible. So, the former couple didn't communicate with one another for a whole year.
There was a moment where a second chance could have happened, though. Izzy revealed that after their year apart, he ran into Stacy at a bar and they reconnected. They even kissed, but despite that, decided it was better not to get back together.
This article was originally published on