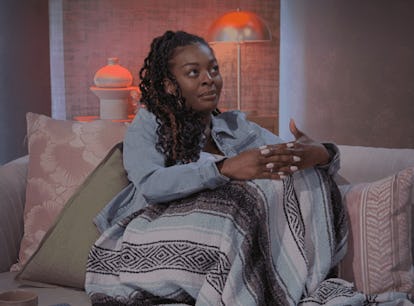 Aaliyah From Love Is Blind Is Seemingly Engaged, & Not To Uche
Now this is a boyfriend reveal!
Netflix
Aaliyah may have not made it to the altar on Love Is Blind, but it looks like she's about to have her dream wedding after the show. The Houston-based nurse posted a major boyfriend reveal shortly after Netflix dropped the episode in which her almost-fiancé Uche broke up with her. And one of the photos in the collage of romantic pics is extremely notable, since it appears to confirm Aaliyah finally got her engagement.
After leaving the pods early due to the revelation that her match Uche had a previous relationship with her close friend Lydia, Aaliyah tried to mend things with Uche in the real world. Though Love Is Blind portrayed Aaliyah and Uche's IRL meet-up as a breakup scene, Uche recently claimed that the couple actually agreed to date for a while outside of the show.
However, it's clear the relationship didn't last, because Aaliyah is dating somebody else now. On Oct. 4, she posted a lovey-dovey video collage showing off her new boo. She didn't reveal his name, but all of the photos and videos indicate they've been together for quite some time.
"My King," she captioned the post, adding a hashtag that may be a bit of shade at Uche: "#whatreallovelookslike."
And this mystery man may be more than just a boyfriend. One of the pics in the video is a closeup of Aaliyah's hand with what appears to be an engagement ring.
So, it definitely looks like Aaliyah found her way to love, even if it wasn't on the show.
And although her breakup with Uche was pretty awkward and filled with drama, it doesn't sound like there's any ill will between the exes. Aaliyah previously told Elite Daily that she still talks to Uche every so often. "We're in touch every now and then, but it is not problematic or anything," she said. "We have a very positive interaction each time we talk."
She also confessed her IRL meet-up with Uche was nicer than how it looked on the show. "I feel like we both acknowledged that we created something in the pods that we hadn't experienced before, so it was nice to reconnect, for sure," Aaliyah said.