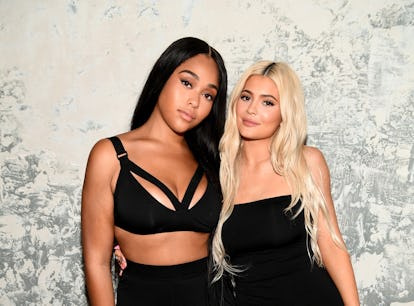 Kylie & Jordyn Hanging Out Again Is The Most Important Peace Treaty Of 2023
"The Treaty of Versailles if it served." 😭
Emma McIntyre/Getty Images Entertainment/Getty Images
There are a few things longtime Kardashians followers would simply never expect: Kim posting an unfiltered photo, Kris taking a day off work, and Kylie making amends with her ex-BFF Jordyn Woods. Well, the impossible has happened, folks. Jenner and Woods are giving a new meaning to "make up," as they gloss over their recent years of animosity to build a new foundation. Naturally, the unexpected reunion sparked a ton of discourse on social media, and the memes are truly next-level.
Jenner and Woods sent shockwaves across the internet after photos of them going out to dinner together on Saturday, July 15 surfaced online. This marked the first time in more than four years that Jenner and Woods had been spotted together. The once-inseparable besties had an infamous, highly-publicized fallout in February 2019 when Woods kissed Khloé Kardashian's then-boyfriend Tristan Thompson at a party. The scandal led to Khloé and Thompson breaking up, Woods moving out of Jenner's house, and a lot of screaming about Woods on Keeping Up with the Kardashians. But now, it seems the the storm has finally blown over.
Even Khloé seemed supportive of the reunion despite her history with Woods. After the pics of Jenner and Woods went viral, Khloé shared a string of inspirational Instagram Stories focused on growth and letting go of judgment.
Fans also had a lot of reactions to the dinner heard 'round the world, from praising it as a long-awaited reconciliation to forecasting a trend of ex-besties making amends.
There were also tons of jokes about how Jenner's new BFF, Stassie Karanikolaou, might be feeling about Woods re-entering the friend group
It's unclear just how close Jenner and Woods are after their recent night out, but fans are hoping for a return to their beloved friendship from the pre-Thompson days. Woods was one of Jenner's longest and closest friendships, having been constantly by her side since they first met in 2012. Over the years, their close bond became a favorite for fans, especially after Woods moved in with Jenner and frequently appeared on Keeping Up with the Kardashians. She even helped Jenner adapt to motherhood after giving birth to her daughter Stormi in 2018. Could this friendship reunion mean a potential Woods cameo in The Kardashians is on the horizon? We'll just have to wait to see how it all develops.