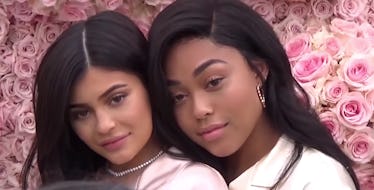 Jordyn Woods Opened Up About How Kylie Jenner Is As A Mom & I'm Not Crying, You Are
Before there was Kylie Jenner and Travis Scott, there was Kylie Jenner and Jordyn Woods. These two are the public's favorite partners in crime and watching their friendship evolve and grow over the years has been... well... a true honor, if I do say so myself. Now that Kylie is a mom, their bond has taken yet another important turn. Jordyn Woods' quotes about Kylie Jenner being a mom prove how truly supportive she is of her bestie and make me wish I could get in on their love-fest, too.
As you, me, and everyone's mom knows, Jenner gave birth to her first child, Stormi Webster, on Feb. 1. She and boyfriend Travis Scott kept the entire pregnancy under wraps while Jenner took time away from the limelight to nurture herself and her growing family. Now that she's back in the spotlight, fans have been dying for all the insider deets on her new baby and life as a mom. Woods has been by her side through it all and she recently spoke with People about how it's been going for her BFF.
Woods spoke about how surreal the new experience of motherhood must be for Jenner and also touched on what it's been like to see her friend become a parent. She said,
It's just a whole new experience. It's something you never have gone through, but you figure it out as you go. I think that it takes a really strong woman to carry a child.
She added, "I admire any woman who gave [birth] because that sh*t is crazy."
Of course, Woods was one of the few people in Jenner's inner circle who knew about her pregnancy all along. Woods was also the first person featured in the touching video tribute Jenner and Scott made for Stormi titled "To Our Daughter."
In the opening seconds of the video, Woods talked directly to baby Stormi, who had not yet made her debut. She told the camera (and baby),
Whatever your name is going to be, this is how I found out about you... Your mother and I were living our lives, having fun. She met your father and they just hit it off. Chemistry. One day I was in your mom's bathroom with her and she took a little test...
Woods explained to the unborn wee-one:
When you're 20 years old, you're just figuring out your life. You don't know what you want. You're an indecisive teenager. You're just becoming a young adult. And, there was one thing that your mom knew for sure, and that was you.
Now that Stormi is here, Woods told People nothing between her and Jenner has changed. In fact, the birth of her pseudo-niece probably brought them closer. Woods explained Jenner is figuring out motherhood one day at a time but that they're in it together.
She said,
It's definitely the same. If anything, I feel like no matter who you are friends with, no matter what happens, the more you experience together, the more you grow and the more you figure it out. It's just about growing up. We are growing up now and it's cool.
When she was asked about Scott as a father, Woods explained he's very "hands on." She said, "Everyone is super proactive, super in it, super excited, healthy, happy, and that is most important."
Of course, she was sure to add that Stormi is "just an angel."
Duh. She so would be.
I'm loving the love between Woods and Jenner and have my fingers crossed my friends pull through for me one day the way Woods has for King Kylie.
Serious FOMO over here, you guys.
Check out the entire Gen Why series and other videos on Facebook and the Bustle app across Apple TV, Roku, and Amazon Fire TV.