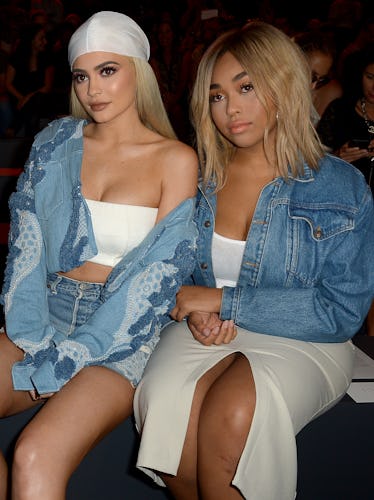 Get Ready To Sob Over Jordyn Woods' Sweet Reaction To Kylie Jenner's Baby
Gustavo Caballero/Getty Images Entertainment/Getty Images
The next time you really want to compliment a friend, just tell them that they're the Jordyn to your Kylie, because if Jordyn Woods' reaction to Kylie Jenner giving birth has taught us anything, it's that she is the definition of ride or die. Not only does Jordyn appear in the beautiful video Kylie posted announcing the birth, but she took to Twitter and Instagram within minutes of it being shared to express even more well wishes for her BFF. And no matter your personal feelings on Kylie, seeing Jordyn's unwavering support should be more than enough to bring tears to your eyes — if not reduce you to a full-on, Kim Kardashian-style ugly cry.
Let's start with the video. Kylie, who had never actually confirmed that she was pregnant, posted both a statement about her pregnancy and a link to an 11-minute video on her Instagram on Sunday, Feb. 4. The statement revealed why Kylie had kept the pregnancy herself, as she explained that in order to make it a positive, stress-free time, she needed to keep it private.
Then, Kylie posted a preview of a video to her Instagram, which shows Jordyn saying, "Whatever your name is going to be, this is how I found out about you. Your mother and I..." The full video, which was posted on Kylie's YouTube page and can be found below, features a ton of commentary from Jordyn.
The video continues that sentence from the preview. Jordyn says to the camera, "Your mother and I were living our lives, having fun. She met your father, and they just hit it off, chemistry."
The video then shows cute moments from the different stages of Kylie and Travis Scott's relationship, before we hear Jordyn speaking again as she begins to tell other friends the story of Kylie finding out that she was pregnant:
One day, I was in your mom's bathroom with her and she took a little test. [Kylie's friend] were sitting in the tub, I was standing by the counter ... and then she passed it to me after like, "surprise." She just looked at me weird and I'm like, "what?" And I didn't know that's what she was doing so when she passed it to me I was like [surprised face].
Later in the video, Jordyn says something that immediately moved me to tears. As photos of a pregnant Kylie appeared on the screen, Jordyn said,
When you're 20 years old, you're just figuring out your life. You don't know what you want, you're an indecisive teenager and you're just becoming a young adult, and there was one thing that your mom knew for sure, and that was you.
But Jordyn doesn't just appear in the video to talk about the pregnancy — we also see her by Kylie's side throughout it, even accompanying her to doctor appointments. And as soon as the video went public, Jordyn shared an Instagram of the pair the day they filmed the video, along with a heartfelt caption that read, "Your growth and maturity over this time never failed to amaze me. So excited for this new addition! Wifey 4L."
As many fans took to Twitter to tell Jordyn what they thought of seeing her in the video, she retweeted a few sweet messages.
It'd be hard to disagree with any of those supporters, since Jordyn was clearly truly there for Kylie for the past nine months — and, even more impressively, managed not to let the news slip. That's something she acknowledged in a much more lighthearted tweet.
It must be a huge relief for Jordyn to not have to keep such a huge secret, and to let the world see just how important and supportive her relationship with Kylie has been.