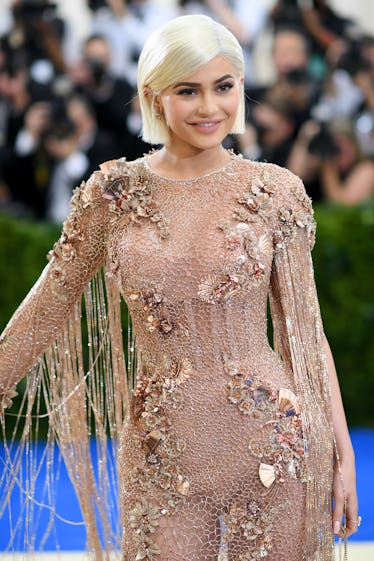 The Kardashians Are Reacting To Kylie Jenner's Pregnancy Post In The Cutest Ways
Dimitrios Kambouris/Getty Images Entertainment/Getty Images
Everything is khaos in the Kardashian world right now, which, by default, means that everything is khaos in my world too. We finally have confirmation that the youngest member of the fam was pregnant, because Kylie Jenner gave birth to a baby girl on Feb. 1, as Jenner announced herself on her Instagram. I mean, what a time to be alive, amirite?! And, if you're like me, you stalk each member of the royal family's social media accounts whenever anything happens, let alone something this huge, just waiting to see what each person has to say about the exciting news. Luckily for us, the wait is over: the Kardashian family reacted to Kylie's baby news already.
Before we obsess over the reactions that the Kardashian-Jenner family has blessed us with over Kylie's baby, let's just take one moment to honor the journey we've been on when it comes to figuring out whether or not Kylie was even pregnant.
Pregnancy rumors were swirling for months, but things started to really take off during Thanksgiving, when Kylie hosted a holiday dinner with decor decked out in pink. We're talking bubblegum-pink chairs and art on the walls that were all shades of pretty, pretty pink:
To that people thought, "Hm. Could it be a hint, or does our girl Kylie just love the hell out of the color pink?"
Could go either way, TBH.
But then someone spotted a very ~interesting~ dessert on Kylie's holiday spread, which the internet all collectively gasped at:
Y'ALL. A chocolate-covered rice cake turkey with what looks to be a baby bump. There's no way this was just coincidence, right? RIGHT?
Thanksgiving was the first time where the world was given some klues about the reported pregnancy, and things only got crazier from there.
Remember the time that Kris Jenner basically confirmed that she has more grandchildren on the way after posting a photo of nine pairs of pajamas for each of her grandchildren, when she only had six that the world knew of?
Yep. Mason, Penelope, Reign, North, Saint and Dream all get jammies, but so do three other ~mystery~ babies (looking at you, Kim, Khloé, and Kylie).
Then, Kylie graced us with a glorious Instagram post that showed off her gigantic, 20-foot Christmas tree that was – yes, you guessed it – completely decked out in pink baubles, looking like it was straight out of a magazine:
Many people tried connecting the dots, realizing that perhaps all of these things were hints for the big reveal, and that these all-pink posts were confirming that a baby girl was on the way.
One Instagram user, thenamecaitymillerwastaken, took it even further, realizing that Kylie's lack of reflection in the ornaments might signify her wanting to hide a baby bump. She writes:
anyone else check the reflection of the ornaments to see if we could see if she's preggers or is that just me
Another user, jeanadi, was quick to point out the same thing as well:
Where's the reflection of the photographer??
BUT YOU GUYS. We finally can stop investigating, because Kylie gave birth and basically made everyone's heart burst. She posted a statement on Instagram on Sunday, Feb. 4, reading, "I'm sorry for keeping you in the dark through all the assumptions. I understand you're used to me bringing you along on all my journeys. My pregnancy was one I chose not to do in front of the world. I knew for myself I needed to prepare for this role of a lifetime in the most positive, stress free, and healthy way I knew how. There was no gotcha moment, no big reveal I had planned. I knew my baby would feel every stress and every emotion so I chose to do it this way for my little life and our happiness ... Pregnancy has been the most beautiful, empowering, and life changing experience I've had in my entire life and I'm actually going to miss it. I appreciate my friends and especially my family for helping me make this special moment as private as we could. My beautiful and healthy baby girl arrived February 1st and I just couldn't wait to share this blessing. I've never felt love and happiness like this I could burst! Thank you for understanding."
And if that doesn't make you sob tears of joy, then perhaps seeing Kylie's family react to the news will. Both Kourtney Kardashian and Kris Jenner took to Instagram to like Kylie's post right after it went up.
And there seriously can't be a cuter reaction to the news that Kylie is going to be a mom than from Kylie's mom herself, Kris Jenner:
Kris wrote in her post:
God is SO good!! I am so excited and thrilled to welcome another precious baby girl to our beautiful, ever growing family. We are blessed beyond belief! #repost@kyliejenner thank you @wttyler for putting this together. here's a little glimpse of the last 9 months. the link is in my bio ♥️
Kendall Jenner retweeted Kylie's announcement with a few hearts.
And big sis Kim Kardashian West's post included a little baby emoji.
Khloé Kardashian, who is expecting a little bundle of joy herself this year, also posted for her sister.
So, was all the speculation and obsessing over whether or not we'd know for sure if Kylie was pregnant actually worth it? HELL YES IT WAS.