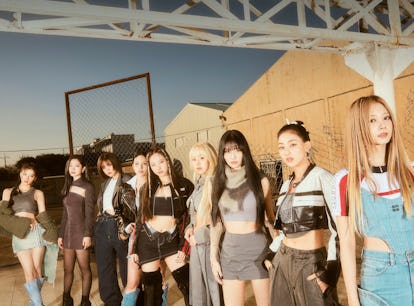 Stay Calm: TWICE Added Four More Dates To Their Ready To Be Tour
Their worldwide domination is a never-ending dream.
JYP Entertainment
TWICE is going worldwide again, baby. In February, the K-pop group announced their fifth world tour in support of their mini album, Ready To Be. Recently, the singers extended the tour by adding four more dates, with one adding to their historic stint of headlining stadiums with incredible ease. When member Chaeyoung told Nylon earlier this year that TWICE is looking to go global in the next phase of their career, she meant it.
On Aug. 29, TWICE — comprised of members Nayeon, Jeongyeon, Momo, Sana, Jihyo, Mina, Dahyun, Chaeyoung, and Tzuyu — shared the dates for the "third part" of their tour. This section extends their fall run beyond September, and sees the singers visiting Australia, Indonesia, Mexico, and Brazil to early 2024. The Ready To Be tour was originally scheduled to end on Sept. 30; however, these were added due to "high demand."
Their new Australia show is impressive, as it'll make them the first female group to headline a stadium there. At this point, this iconic accolade is standard for them. For the U.S. part of this tour, TWICE became the first K-pop group to perform as headliners in MLB and NFL stadiums. They also held a similar honoring for their two 4th World Tour Los Angeles shows in 2022, per Rolling Stone.
For those looking to attend their historic Melbourne show, buckle in. A Live Nation presale for that show will start run from Sept. 4 to Sept. 6. Shortly after the presale ends, a general public sale will also happen on Sept. 6. TWICE hasn't released ticket information for their three other tour dates yet.
These four new dates follow TWICE's second tour extension in April. That month, the "Set Me Free" stars announced their Europe and Southeast Asia trek of shows will begin in September. That month, they'll visit cities across countries of Singapore, Thailand, France, Germany, the Philippines, and the United Kingdom.
Below, everything else to know about TWICE's upcoming tour.
When does TWICE's tour begin?
TWICE's world tour kicked off with two shows on Apr. 15 & 16 in Seoul, South Korea.
What will TWICE perform on tour?
Fans can expect to hear tracks from their Ready To Be album, including lead singles "Moonlight Sunrise" and "Set Me Free."
The glossy, R&B-inspired synths of "Moonlight Sunrise" see TWICE exploring the excitement of falling in love with sultry twists on drinking. The singers dare their crushes to take a Tequila Sunrise shot on them under the moonlight, because there's nothing steamier than a NSFW drinking game. Their range of whispery-sweet to warm vocals against these arrangements is the cherry on top, especially when they offer breathy high notes in the outro.
Meanwhile, "Set Me Free" has a peppier tempo. Over a disco-funk beat, the group gushes about how their significant other inspires them to love freely.
As for other sonic material, TWICE might possibly sprinkle in tracks from their 2022 album, BETWEEN 1&2. They could also allot time for certain members to perform their solo discography. So far, Nayeon, Jihyo, and MISAMO have released solo mini-albums.
Nayeon
In 2022, Nayeon became the first member of TWICE to debut her solo music. That year, she released I'm Nayeon, a seven-track EP filled with bubblegum-meets-mid-tempo gems suitable for the summer. While the entire record offered promise, her lead single "POP!" was the true hitmaker. Clad in both Korean and English lyrics, the sugary track sees Nayeon encouraging a love interest to show her their true feelings.
MISAMO
MISAMO became the second artists to prove their solo skills. In July 2023, the group — a sub-unit of TWICE's three Japanese members Sana, Momo, and Mina — released their EP Masterpiece. Similar to Nayeon, this project boasts seven budding hits; however, their track "Do Not Touch" glimmers with most intrigue.
Jihyo
Serving as the leader of TWICE, Jihyo's solo moment was long overdue. On Aug. 18, nearly one month after MISAMO's debut, Jihyo released her anticipated EP Zone. The 22-minute project flaunts Jihyo's most stunning vocals, her tone teetering between confident belts ("Killin' Me Good") to sultry, almost breathless glazes on "Closer."
When & where are TWICE's Ready to Be tour dates?
TWICE's 17-date world tour began in South Korea before hitting Australia and Japan. The group then headed stateside for nine shows in the U.S. and Canada, traveling to cities such as Los Angeles, Seattle, Toronto, Houston, and Chicago.
Apr. 15 & 16 in Seoul, KR at KSPO Dome
May 3 in Sydney, AU at Qudos Bank Arena
May 6 in Melbourne, AU at Rod Laver Arena
May 13 & 14 in Osaka, JP at Yanmar Stadium Nagai
May 20 & 21 in Tokyo, JP at Ajinomoto Stadium
June 10 in Los Angeles, CA at SoFi Stadium
June 13 in Oakland, CA at Oakland Arena
June 16 in Seattle, WA at Tacoma Dome
June 21 in Dallas, TX at Globe Life Field
June 24 in Houston, TX at Toyota Center
June 28 in Chicago, IL at United Center
July 2 in Toronto, ON at Scotiabank Arena
July 6 in East Rutherford, NJ at MetLife Stadium
July 9 in Atlanta, GA at Truist Park
After wrapping their first part of the tour in Atlanta, TWICE will begin their Southeast Asia and Europe dates in September.
Sept. 2 in Kallang, SG at Singapore Indoor Stadium
Sept. 7 & 8 in London, UK at The O2
Sept. 11 in Paris, FR at Accor Arena
Sept. 13 & 14 in Berlin, DE at Mercedes-Benz Arena
Sept. 23 in Bangkok, TH at Impact Arena
Sept. 30 in Bulacan, PH at Phillipine Arena
They'll then wrap their Ready to Be tour with their four new shows:
Nov. 4 in Melbourne, AU at Marvel Stadium
Dec. 23 in Jakarta, ID at Jakarta International Stadium
Feb. 3 in Mexico City, MX at Foro Sol
Feb. 6 in Sao Paulo, BR at Allianz Parque
When do tickets for part three of TWICE's world tour go on sale?
A Live Nation presale for that show will start run from Sept. 4 to Sept. 6. Shortly after the presale ends, a general public sale will also happen on Sept. 6. TWICE hasn't released ticket information for their three other tour dates yet.
This article was originally published on