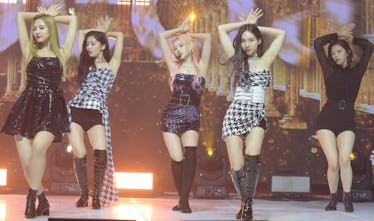 The Tracklist For TWICE's New Mini-Album Is Exactly What I Needed
Their next single will be "Talk That Talk"
The Chosunilbo JNS/ImaZinS/Getty Images
TWICE is getting ready to make another comeback. On July 12, the group announced they'll release their 11th mini-album, BETWEEN 1&2, in August. The project will mark their first Korean release the year, so you can imagine how eager fans are to finally hear new music.
The group dropped their previous mini-album, Taste of Love, in June 2021. It featured the single, "Alcohol-Free." Four months later, the girls made their comeback with their third studio album, Formula of Love: O+T=<3, and its single "Scientist" in November 2021. TWICE hasn't come out with another Korean project since, but that will change with the arrival of BETWEEN 1&2.
TWICE announced their mini-album at an especially exciting time. As Soompi reported on July 11, confirmed all nine members of the group renewed their contracts with JYP Entertainment, meaning they're sticking together for awhile. On top of the new mini-album, TWICE will also release their fourth Japanese album, Celebrate, on July 27.
To celebrate (get it?) everything on the horizon, check out all the details about BETWEEN 1&2 below.
When is TWICE's BETWEEN 1&2 coming out?
Between 1&2 will drop on Friday, Aug. 26, at 1 p.m. KST. (That's 12 a.m. ET.)
How can I pre-order TWICE's BETWEEN 1&2?
Fans can pre-order Between 1&2 starting on Tuesday, July 26, at 1 p.m. KST. JYP hasn't revealed which retailers will have the album just yet, so keep an eye on TWICE's social media pages for more info.
What is the tracklist for TWICE's BETWEEN 1&2?
TWICE's mini-album will include a total of seven tracks. The record will open with the lead single "Talk That Talk," before going into the songs "Queen of Hearts," "Basics," "Trouble," "Brave," "Gone," and "When We Were Kids."
What merch will come with TWICE's BETWEEN 1&2?
TWICE revealed on Twitter their mini-album will have four physical versions. Each one will come with a photobook, CD, polaroid photocard, crosscode postcard, film photo sticker, message photocard, heart glass, folded poster, and five random photocards. Those who pre-order BETWEEN 1&2 will also get a photocard set and an additional poster.
Will TWICE go on another tour?
TWICE embarked on their fourth world tour, titled III, in Seoul on Dec. 24 and wrapped up their concerts in Los Angeles on May 15. The group hasn't revealed when they'll tour again, but I'm crossing my fingers they'll announce something soon.
In the meantime, I'll be streaming BETWEEN 1&2 as soon as it's out.
This article was originally published on