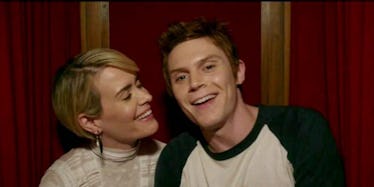 Evan Peters And Sarah Paulson Will Have "A Love Story For The Ages" In 'AHS: Cult'
FX
After months of speculation, we're finally getting all the exciting information we've been waiting for about the seventh season of American Horror Story. Now, we're learning more about Evan Peters and Sarah Paulson's roles in AHS: Cult.
Over the weekend, Ryan Murphy revealed that Season 7 will be called American Horror Story: Cult, and dropped a creepy AF trailer featuring chanting clowns and bees. We also know this season will somehow be linked to the 2016 presidential election.
And in the midst of all this excitement about the newly revealed theme, we're also getting details about the two stars of the upcoming season. As in seasons past, Evan Peters and Sarah Paulson will helm AHS: Cult as new characters named Ally and Kai.
We still don't know much about Ally and Kai, but Ryan Murphy did post a sketch of what the characters look like, and wrote that they have "a love story for the ages." This will be the second time Peters and Paulson play lovers on the series, following their roles as married actors Rory and Audrey in AHS: Roanoke last season.
Matching this sketch, Murphy had previously posted a photo of Evan Peter's long, blue hair for the new role.
But that's not all Ryan Murphy revealed about the new season. On Sunday night, Murphy made another surprising casting reveal fans really didn't see coming: he himself will be acting in the new season.
Murphy posted a photo of himself in full clown makeup, asking his followers if they recognized this man, who will be active in the cult. Honestly, I thought the pic looked like Michael Keaton at first glance, but the comment section seems to confirm this will indeed be Ryan Murphy's first time ever appearing on-screen on American Horror Story.
Ryan Murphy's casting news comes after the showrunner announced AHS newcomers Lena Dunham, Billy Eichner, Billie Lourd, and Colton Haynes would also be starring in the season.
American Horror Story: Cult will premiere on September 5.