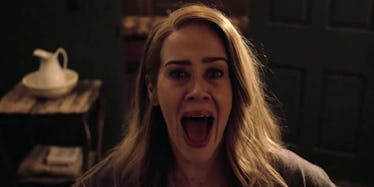 'American Horror Story' Season 7 Theme Has Finally Been Revealed, And It's Terrifying
FX
OK, I think we can all agree this season of American Horror Story is going to be the scariest one yet! Ryan Murphy just revealed the spine-tingling theme for Season 7, and you might be watching this one through your fingers.
After months of buildup, Murphy revealed on Thursday, the new season will be titled American Horror Story: Cult.
Murphy had been laying out the clues pointing to this theme reveal for quite some time. Back in February, he revealed the new season would be set around the 2016 presidential election and tackle politics as a topic. In that patriotic vein, he followed it up with red, white, and blue Instagram posts, as well as a terrifying sketch of an elephantine monster.
More recently, Murphy teased the new season would also have a focus on clowns, revealing the return of Freak Show character Twisty the Clown as well as a clown-centric leaked teaser for the season. He added another layer by posting a photo of a man covered in bees, saying it was the final theme clue.
American Horror Story: Cult will star returning AHS vets like Evan Peters, Sarah Paulson, and Cheyenne Jackson, but more interesting is the strange group of newcomers joining the franchise this season. Comedian Billy Eichner and Girls showrunner Lena Dunham will appear in the season, as well as Billie Lourd and Colton Haynes, both of whom Murphy has worked with before on his other series Scream Queens.
American Horror Story: Cult is set to premiere sometime this September.