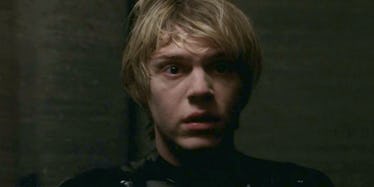 'American Horror Story' Season 7 Will Feature The Return Of This 'Freak Show' Character
FX
American Horror Story is not playing around in Season 7. Ryan Murphy just revealed his horrific franchise is bringing back one of its most terrifying characters for the new season.
Murphy confirmed on Instagram that one of the most iconic American Horror Story characters will be making an appearance in Season 7. Twisty the Clown, the sadistic serial killer from Season 4 (Freak Show), will pop up in the upcoming, politics-themed season of AHS.
Murphy shared a shot of Twisty with the caption "He's Baaaaaack," just to reignite the nightmares of every AHS fan.
There is something important to note about Murphy's photo, though. Twisty only appears as a drawing on the cover of a graphic novel. It's likely that Twisty will only appear on the page of this comic or in flashbacks, given that Freak Show was set in 1952, 64 years earlier than the 2016 setting of Season 7. Oh yeah, and he died during his season.
It looks more likely Twisty's sadistic story will inspire one of the new characters to fully realize their murderous tendencies, just as it did Dandy Mott in Season 4.
As a refresher on Twisty the Clown, he was a grotesque figure in Freak Show who would kidnap Jupiter, Florida locals and perform for them before murdering them. We later learn he turned to his life of crime after a failed suicide attempt led to his jaw being completely blown off.
Part of the way through the season, Twisty is killed by the mystical being Edward Mordrake.
Though we're still not sure if Twisty will actually appear in Season 7 in the flesh, this is the first confirmation of a returning character for the new season. Season 7 will also be bringing back a handful of perennial American Horror Story actors: Evan Peters, Sarah Paulson, and Cheyenne Jackson.
The new season is also adding new faces, such as Colton Haynes and Billie Lourd (both of whom have worked with Ryan Murphy on Scream Queens) and Billy Eichner.
The plot for the new season is being kept under wraps, but we do know that it will be closely tied to the 2016 presidential election.