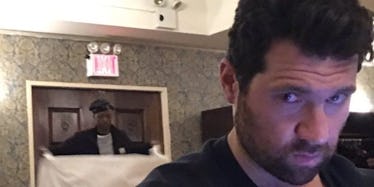 Billy Eichner Will Be On Next Season Of 'AHS' And He Looks So Sad About It
Twitter
Billy Eichner's star sure is on the rise! The comedian was once best known for screaming at people on the street, and I mean, he's definitely still known for that.
But now, he's also got his own sitcom on Hulu, bit parts in major productions like "Hairspray Live!" and "Neighbors 2: Sorority Rising" and he's about to star in the new season of "American Horror Story."
So why does he look so sad?
Minutes after Deadline announced Billy Eichner will be starring in the upcoming seventh season of "American Horror Story," Adam Pally captured Eichner's reaction to the news, which turned out to be a bit more morose than you might expect.
He may look a bit caught off guard in Pally's photo, but I'm sure Billy is over the moon on the inside. After all, even though he's only in a recurring role, his character will reportedly be in more than half of the episodes.
And Eichner's casting seems to fit perfectly with the new season's theme. In case you missed the news, season seven of "American Horror Story" will be all about the recent presidential election, which is a subject Billy has been very vocal about in recent months.
Like many, the comedian got serious on his social media outlets after Trump took office, calling for his fans to resist his administration.
Apparently, Billy Eichner will be sharing most of his scenes with "AHS" veteran Sarah Paulson, playing a close confidant to her character. The only other thing we know about his character so far is that he'll be wearing a variety of "mysterious tank tops." What that means, I have no clue.
But if Paulson is going to be playing a high-powered politician in the new season, as many fans are guessing, and Eichner is her confidant... is anyone else thinking that it might look a bit like Selina and Gary on "Veep?"
Aside from Sarah Paulson and Billy Eichner, the only other actors we know will be in the new season are franchise vets Evan Peters, Kathy Bates, Adina Porter and recent newcomer to the Ryan Murphy-verse, Cuba Gooding Jr.
There's no word yet on when the political, new season will premiere, but they'll begin shooting in May. And while he waits for that, Billy Eichner will get to have some romance with John Cho, who was just cast as his character's boyfriend in the third season of "Difficult People."
Like I said, everything's really coming up Billy these days.