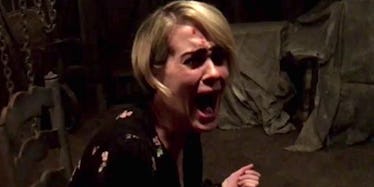 'American Horror Story' 7 Will Tackle The Election Because Nothing Is Scarier
FX
Apparently, the next season of FX's "American Horror Story" is going political.
In a recent interview with E! News, show runner Ryan Murphy dropped a major hint for season seven.
Murphy said,
It's very scary and very fun and very… topical. Anybody who voted in the last election will very much enjoy what it's about.
Oh god. I'm not sure I'm ready for this. What does this mean, exactly? White nationalist murderers? Political arguments turned violent? Will Sean Spicer torture a journalist?
We just don't know.
The fact season seven of "American Horror Story" would even exist was only just announced last month, after all, when Murphy confirmed "AHS" veterans Sarah Paulson and Evan Peters would return.
In this new interview with E!, Murphy went on to say Peters and Paulson will play the lead roles of the season and that the setting will be "modern."
He said,
Evan Peters and Sarah Paulson are the leads [of season seven]. But they don't know who they're playing…It's a modern story is all I'll say. We just started back in the writers' room for that.
Well, thank god for that, at least. Fans were not happy with how little of Evan Peters we saw in season six, considering (spoiler alert) the fact that he got killed off, twice.
The good news is you can expect to see "AHS" back a little sooner than last year. Murphy said he is aiming for a fall 2017 release date, "around Labor Day."
Aside from more Evan Peters, which it seems we are getting, my only other request for season seven would be for less confusion, please.
Season six had so many stories within stories within stories that I had to take an Advil after every episode.
That's probably bad for my liver or something, so can we just skip the headaches, please?
Citations: American Horror Story Season 7 Scoop: "Anyone Who Voted in the Election Will Enjoy It" (E!)