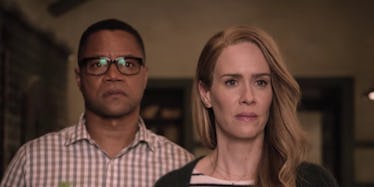 'American Horror Story' Was Renewed And We Have Major Hints About Next Season
FX
Have no fear, "American Horror Story" hints are finally here!
After keeping the details of the latest season of  "AHS" under wraps until the premiere, fans were unaware if they should expect any hints from the show runners for future seasons.
But creator Ryan Murphy unveiled some juicy clues that should hold everyone over for a little while.
On Thursday, Murphy confirmed "AHS" regulars Sarah Paulson and Evan Peters will return for the next season.
Time to collectively sigh in relief.
Murphy also announced the time period the new season will be set in, calling season seven a "modern-day story." But the hints stop there because, according to Murphy, only three other people in the world know what "AHS" season seven is about.
Fans should expect the final details before the first episode premieres. Murphy said they probably won't hide the theme in mysterious previews like they did in the lead up to "AHS Roanoke."
In the exclusive interview, Murphy said,
We haven't decided how to do that. There are only three people in the world who know what it is, which is [FX president and general manager] John Landgraf, [Fox Television Group chairman and CEO] Dana Walden and Sarah Paulson [...] Last year was successful. I don't know that we'd do it again. I think maybe we'd release some of it earlier than we did.
There is something we can still be certain of, even without hints from the creator: Season seven will be creepy.
In the past six seasons, the show's writers have solidified their place among the horror fiction greats, next to the likes of HP Lovecraft and Stephen King. And considering FX just renewed "AHS" through season nine, we can be sure there's more to creepy stuff on the way.
American Horror Story is set to return in the fall of this year.
Citations: Entertainment Weekly