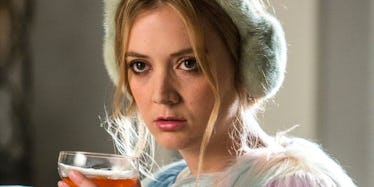 Ryan Murphy Gives Fans First Look At Billie Lourd's 'American Horror Story' Character
Fox
We're finally getting some more info about the mysterious seventh season of American Horror Story.
Ryan Murphy posted our first look at Billie Lourd's character in the politically-charged new season of the horror anthology series. Her newly-frosted locks have the internet in a frenzy, theorizing about how she will be involved in the election-centric season.
The new photo shows Billie putting on a pair of shades in a flower-covered sundress.
But the big takeaway is her hair: She's rocking long, silvery white locks, instead of her normal blonde. And Ryan included a cheeky little phrase in his caption that is spurring some speculation as well, writing "Winter is coming."
Of course, the most obvious explanation for Ryan's caption is the new Game of Thrones trailer dropped on the same day, and he was just making a little joke that also tied in with Billie's new hair color. But fans dug deeper into the caption and now think it may be teasing Billie's character may have a connection to a past American Horror Story character.
If Billie's character really is named Winter, could she be related to the Lana Winters, Sarah Paulson's intrepid reporter from the fan-favorite second season, American Horror Story: Asylum? Since Asylum was set in 1964, the timing would most likely work out where Billie's character would be Lana's granddaughter if they are related.
But Billie's new hair also teases something else. Last week, Ryan posted a photo of what appears to be Evan Peters' new hair for the season, which is dyed blue.
So now, for the season themed around the 2016 presidential election in America, we've seen blue hair, white hair... and what's left? Red hair, of course!
It seems likely the next tease Ryan gives us will be of someone with red hair, and the only confirmed cast members we haven't caught glimpses of yet are Sarah Paulson, Billy Eichner, and recently added Leslie Grossman.
So it might be one of those three, but some fans are also tossing around the idea it might be a much more dramatic reveal about the return of an AHS favorite: Lady Gaga.
Some fans have pointed out Gaga dyed her hair red recently, and since she was in the past two seasons of the show, perhaps she'll be the redhead on the upcoming season of American Horror Story.
Hmmm, interesting... we'll just have to wait and see what happens!