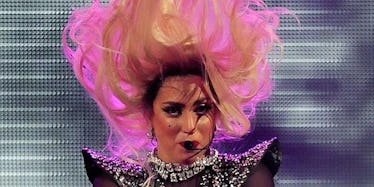 Lady Gaga Dyed Her Hair Orange And Looks Unrecognizable In New Pics
Getty Images
You dog, gone, done it again, Gaga.
Just when you're like, "There's nothing Lady Gaga can wear that will surprise me. I'd know it was her even if she wore a black hole from outer space as a dress. I'll see her coming a mile away, TRY ME!," she goes and dyes her hair bright orange.
And wouldn't you know it? No one can recognize her.
Sure, out of all of Queen Monster's fashion decisions, dying her hair is arguably one of her more tame moves, but it also weirdly makes her look more different than she ever has before.
I mean, look at her. Lady Gaga's hair is literally orange.
She is serving us some serious... something. Not quite "Julianne Moore," and not quite "fire truck" either.
We should note, these photos were taken on set of the remake film A Star Is Born  and for those reasons we can't really predict how long the look is going to stick around.
But for now, I AM INTO IT, GAGA.
More than I was into the egg thing...
Like, IS this even fashion? Or just a weird mode of transportation?
Which I feel like I can smell every time I look at it.
...Or whatever this was about.
Thought, TBH, I am kind of feeling/relating to/loving this idea.
A head made out of flowers?! TWO PLEASE!
In the film A Star Is Born, Gaga plays a singer (previously played by Judy Garland and Barbra Streisand, respectively) who falls in love with an aging rockstar as her career is taking off. That aging rockstar will be played by Bradley Cooper -- like, duh -- who is in the middle of his own professional downward spiral.
We can only assume drama ensues.
For now, come for the Gaga, stay for the Bradley and rock the latest hair trend, "FIRE!"
Citations: Lady Gaga-Bradley Cooper's 'A Star Is Born' Gets 2018 Release Date (Variety)