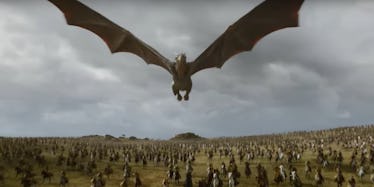 The First 'Game Of Thrones' Season 7 Trailer Just Dropped And It Looks Insane
HBO
Thank the Seven Gods, we FINALLY have our first proper, full-length look at the new season of Game of Thrones!
HBO just released a stunning 1:48 trailer for Season 7, and it looks like this is going to be the most exciting season of the fantasy epic yet!
The new trailer starts with Cersei, now sitting on the Iron Throne, detailing her enemies in every direction: Daenerys's army to the east, Iron Island ships to the west, Arya Stark to the north, and a mysterious hand sharpening a sword to the south.
But obvi Cersei isn't scared! She assures her bro/lover/Hand of the Queen Jamie she's going to defeat anyone who comes against her, and TBH after last season, I'm sure she will. She also has a harsh diss at Tyrion, by saying she and Jamie are the last Lannisters who count. Ummm, ouch!
Just wait until she sees Tyrion's new friends: three gigantic dragons!!
Yep — there's a ton of dragon action in the new trailer, which bodes well for a high-flying, fire-breathing new season of GoT!
We even get to see one of Dani's babies flying menacingly over a charging army towards the end of the new trailer in an epic shot.
The full-length trailer comes after a couple of short, mysterious teasers for the new season.
Back in March, HBO dropped a voiceover-heavy teaser featuring all the house sigils crumbling, and then last month we got another teaser showing Jon Snow, Cersei Lannister and Daenerys Targaryen all making their way to their respective thrones.
Both teasers end with a close-up of the eye of a White Walker, suggesting this will be the season when winter finally comes to Westeros (AKA, the "Game of Thrones" characters are finally going to have to deal with the murderous, nearly invincible White Walkers).
The new season of Game of Thrones will premiere on July 16.