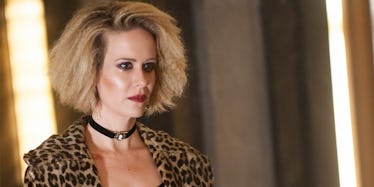 Ryan Murphy Shares Final 'American Horror Story' Title Clue And We Have Some Guesses
FX
The mysterious seventh season of American Horror Story is about to reveal itself, and Ryan Murphy is giving us yet another clue as to the theme of the new season.
On Monday, the franchise creator posted one final clue to help fans speculate over the new theme. Though the new run has been unofficially billed as AHS: Election for months after Murphy revealed it would be set around the time of the 2016 presidential election, he later clarified the election will really only affect the first few minutes of the season.
So, with politics still a part of the season but on the sideline, what are we to assume for a theme? Well, apparently bees figure into it. Murphy shared a terrifying photo of a man covered in bees to his Instagram, writing that it's the last clue before he reveals the season's theme on Thursday.
So yeah, we have bees and we have politics. Not exactly helpful in nailing down a theme, but there are some convincing theories. One Redditor took this clue to represent the concept of a hive mind, tying it into politics by speculating the new season will be an Illuminati-esque look into an organization that runs both major political parties.
Another poster put forth the idea of phobias as the theme of Season 7. It's this theory that pairs best with the supposedly leaked promo video for the new season that popped up online Tuesday. The video shows a demonic clown appearing amid a field of balloons.
Of course, both of these theories could totally work together, with some secret, all-powerful, government-controlling organization using peoples' phobias against them in some sort of twisted propaganda.
What we do know is that Season 7 will star franchise vets Sarah Paulson, Evan Peters, and Cheyenne Jackson, alongside newcomers Billie Lourd, Billy Eichner, and Colton Haynes. The 11-episode season will premiere in September.
And thankfully, we don't have to speculate over the theme for much longer: Ryan Murphy confirmed he'll be revealing it this Thursday, July 20!