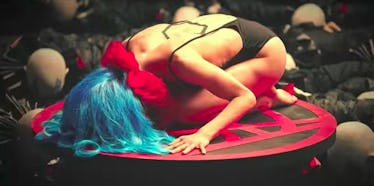 Fans Think They've Spotted Billie Lourde In Second 'AHS' Season 7 Teaser
FX/YouTube
Today is a good day. The new American Horror Story title has been revealed and we got not one, but TWO, new teaser trailers for the highly anticipated seventh season.
Naturally, AHS fans, being the curious bunch we are, have been mining out small details in the promos that may be clues as to what will actually be going on this season.
The first teaser trailer features (for only a split second) a woman standing in a crowd of freaky-ass clowns and, though we don't know her role just yet, it seems like she might indicate some sort of resistance movement.
The second trailer, on the other hand, might be a bit clearer, and it's definitely a little more interesting. Though the tropes in the second promo are pretty similar to those in the first (terrifying clowns, creepy music, etc.), fans seem to think they've spotted one of this season's stars in the mix.
According to a thread on Reddit, it's possible the blue haired girl appearing at the 0:11/0:12 mark might be Billie Lourd. The actress is confirmed for Season 7, so it wouldn't be a big surprise if it were her, but it's still cool to see this *potential* image of her *possible* character so early on.
Looking at this pic of Lourd from her Instagram earlier this year, it's possible her hair might a faded version of the bright blue that's in the trailer, it's especially suspicious since she tagged Ryan Murphy and AHSFX's Instagrams in the caption AND since Ryan Murphy uploaded the same pic to his Instagram.
As is always the case, we're just gonna have to wait to see if it's Billie's character in the trailer. Meanwhile I'll be keeping my fingers crossed we see more stars in the promos in the weeks to come before the Season 7 premiere.