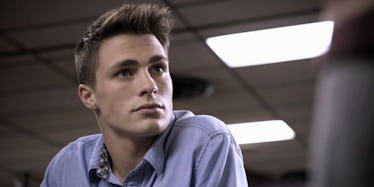 'American Horror Story' Season 7 Cast This 'Teen Wolf' Star And We're Pumped
MTV
Ryan Murphy has officially welcomed Colton Haynes to the American Horror Story family.
On Tuesday, the showrunner posted a picture to his Instagram page of the former Teen Wolf actor looking suitably creepy. Murphy announced Haynes will be joining the cast for the upcoming AHS season.
"Welcome to American Horror Story, Colton Haynes," Murphy wrote in the caption.
28-year-old Haynes first rose to fame in his fan-favorite role as Jackson Whittemore on MTV's Teen Wolf. 
When he left the show after two seasons, Haynes then nabbed a recurring role on The CW's Arrow, playing Roy Harper.
Now it seems Haynes will continue his supernatural career on the seventh season of American Horror Story.
Based on the photo posted by Ryan Murphy, I'm going to guess Haynes will be playing some sort of cannibal? Or maybe he just likes to wear lipstick and make out with people?
Haynes wrote on Twitter that the FX show "already feels like home."
Haynes is joining a few other actors who are new to the AHS cast as well, including Billie Lourd, Leslie Grossman, and Billy Eichner.
Of course, fans can expect familiar faces as well: Both Sarah Paulson and Evan Peters are confirmed to return to the show.
We don't know much about this new season yet, other than the fact it was inspired by the 2016 presidential election. (I believe many would agree that's a sufficiently scary topic.)
Last month, Murphy teased fans with an image of an elephant mask from the upcoming season, which could be interpreted as a reference to the Republican party.
A few weeks later Murphy posted another teaser image: the back of a head of dyed blue hair.
"AHS Season 7: Red, white and blue clue," Murphy wrote in the caption of the post.
It looks like it's shaping up to be a very patriotic season of American Horror Story.