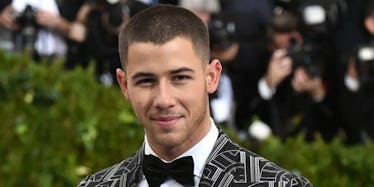 Nick Jonas Dropped "Find You" And It's The Perfect Song To Play This Weekend
Getty Images/ Mike Coppola
Can we all just agree Nick Jonas is the hottest Jonas brother? If I see one more shirtless picture of him... I might actually faint. Good news, he's gotten even hotter — quite literally. Jonas released his newest song, "Find You," and the music video takes place partly in the desert. SOMEONE GET ME A COOL WASHCLOTH. Nick Jonas' "Find You" dropped on Sept. 14 on Beats 1 radio station and it's everything fans wanted it to be: sultry, super sexy, and showcasing Jonas' amazing voice.
Jonas first started teasing fans with "Find You" on Sept. 11, three days before the song's release date (although he didn't share the release date until Sept. 12). He then continued posting pictures of himself looking cute doing various activities like smiling and kicking sand around. Just when I thought the music video was going to be all about Jonas dancing in the desert looking for "you," he posted two clips on Twitter on Sept. 13. The first clip was 18 seconds and featured a lone Jonas walking through a desert (justifying my first prediction). Side note: Who wears jeans and a denim jacket in the desert? Then, he posted a 17-second clip where he was underwater with a woman. You're a tricky man, Nicholas. Each clip had a few plucks of guitar strings, leading fans to believe "Find You" would be an acoustic track.
This is Jonas' second song to come out this summer. "Remember I Told You" was the poppy jam released in May that featured Mike Posner and Anne Marie. The two songs are very different, but I like how Jonas diversified the tracks. One thing is true, he loves making naughty little numbers that people want to... eh hem, get down to. When Nick Jonas released "Bom Bidi Bom" for Fifty Shades Darker in Feb., he described the scene it was used for as "explosive." During an interview with ET Online about the song, Jonas said,
I just tried to bring some soul to it, and have fun with a song that I hope a lot of people have sex to.
No misinterpreting that. While Jonas likes the idea of his fans getting down and dirty to his music, he doesn't do much dating himself. After Nick Jonas split with Olivia Culpo in 2015, he's been linked to Kate Hudson, Selena Gomez, Lily Collins, and some other Olivia Culpo lookalikes. However, he told Los Angeles Confidential in Oct. 2016 that is he happy doing his own thing:
It's been challenging to find any time on that front. But it's also a choice I made to just have this season of my life be solo, so that I can make the most of all I'm trying to accomplish.
Although he's taking a break from dating, he's using his past experiences to write music his fans can connect to:
Heartbreak is a theme that a lot of people relate to — the challenges of the next steps in your life, and when some doors close, and how you approach the next ones opening… I saw pretty quickly that it was a lot of what my fans could relate to. It's nerve-wracking when [the feelings] are as personal as the ones that I shared were. But I feel relieved when I use my writing as a way to process — it's very therapeutic.
So, Nick Jonas isn't dating. *Sobs quietly* That doesn't mean he's lonely. He is very close with his family and has two adorable nieces. Jonas is especially close with brother, Joe Jonas. You may know Joe Jonas as the man underneath this glorious mustache.
It sounds like these two (three if you count Joe's mustache) spend quite a lot of time together. Nick said,
Joe and I live together in LA. We have a home there together — we're very, very close… My brother Kevin and his wife have a baby and another one on the way.
Nick Jonas even goes on dates with Joe Jonas and his alleged girlfriend, Sophie Turner. Being single looks good on Nick, and he is definitely having a good time.
If Nick taking a break from dating means he'll be making new music — more power to him. Now, go listen to "Find You." Do it!
Check out the entire Gen Why series and other videos on Facebook and the Bustle app across Apple TV, Roku, and Amazon Fire TV.