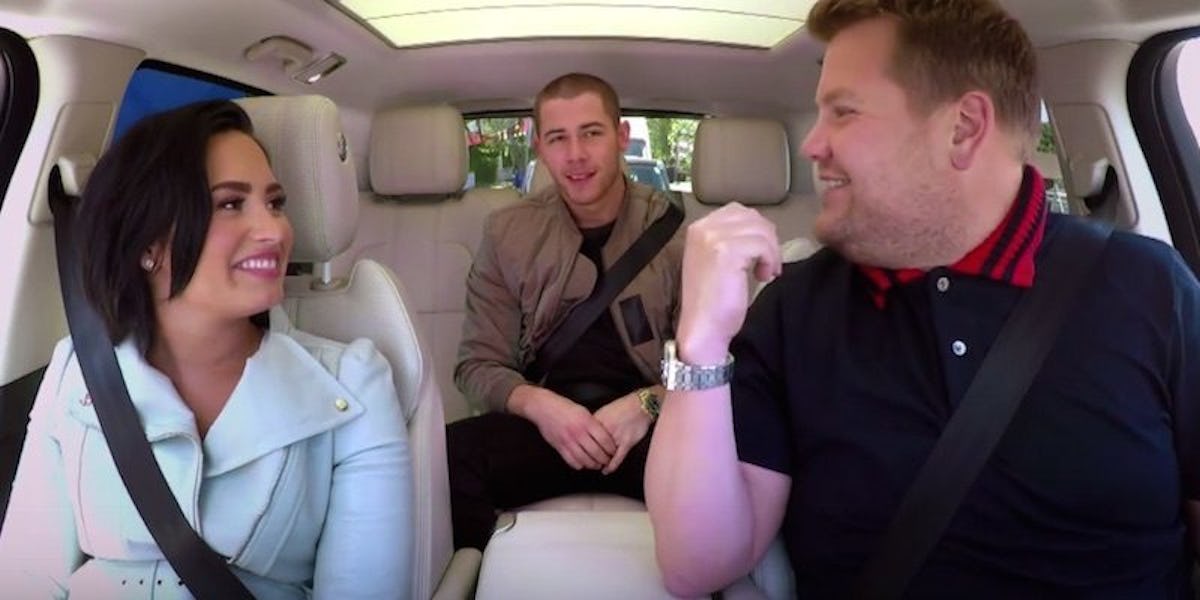 Demi Lovato Grills Nick Jonas About Dating Selena Gomez In 'Carpool Karaoke'
YouTube
Anyone who had zero interest in attending Nick Jonas and Demi Lovato's Future Now Tour this summer might regret his or her previous choice after watching the latest installment of James Corden's "Carpool Karaoke."
The pair appeared on Monday night's episode of "The Late Late Show with James Corden" and rode around LA singing and laughing, and singing and laughing, and being impossibly gorgeous and singing and laughing like old pals do.
MAJOR HIGHLIGHTS:
1. Lovato calling Jonas out for fibbing with the ever-quotable "LIES! LIZA MINNELLI, BACK THERE!"
2. Jonas' story about a show he played at a gay club, wherein he was chained to the wall for the duration of his performance.
3. Corden speaking from all of our hearts when he replies to Jonas' bondage story saying, "Sounds incredible… Sounds terrific… Ding-dong."
4. Lovato grilling Jonas for flip-flopping back and forth between dating Miley Cyrus and Selena Gomez for what felt like an eternity a few years back, and Jonas' heart-melting explanation behind his decision to ditch his purity ring.
5. The gang's a cappella rendition of Jonas' song "Jealous."
6. The gang's bucket-drumming street performance of Lovato's song "Confident."
7. Jonas' delicious face.
8. Lovato's insane voice.
9. Everyone taking the lyrics to Jonas' "Close" as literally as possible.
10. Corden's attempt to join the pop stars on tour -- he makes a pretty good case for himself.
Check out the video above. If you've never been jealous of 30 tourists packed into a sweaty TMZ bus before, you may be now.