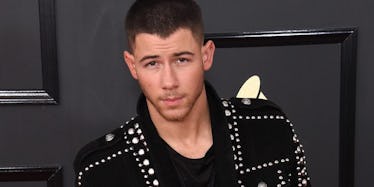 Nick Jonas Wants People To Have Sex To His Music This Valentine's Day
REX/ Shutterstock
If there's one word to describe Nick Jonas, it's "sexual" AF.
In fact, he's so damn sexual he collaborated with Nicki Minaj on a song for "Fifty Shades Darker," and it'll make you feel all sorts of things you haven't felt before.
Seriously -- this song might as well be the soundtrack for every late night sex-capade you've ever embarked on, and that's just the way Nick wanted it.
The new track is called "Bom Bidi Bom," and Nick describes the scene where it's used in the movie as "explosive" during an interview with ET Online.
Yes... he uses the word "explosive."
WE SEE YOU, NICK.
During the interview, he describes the seductive track and blatantly says he wants people to have sex to it.
His exact words are,
I just tried to bring some soul to it, and have fun with a song that I hope a lot of people have sex to.
Yup. Nick Jonas just confirmed he hopes people get down 'n dirty to "Bom Bidi Bom" -- and I'm sure fans will have a ton of kinky inspiration after watching the "explosive" scene the song's featured in.
In other words, get your Valentine's Day playlists ready -- and add this tune to the top of it.
During the interview, Nick also praises Nicki Minaj for her collaboration on the track.
He gushes over the rap goddess, saying,
I love Nicki. She's amazing, she killed her verse. It's incredible. I might be biased, but I think it's one of her best.
It's true, though. The musical duo combined their immense talent and seductive auras into a song that'll make you want to have sex immediately.
Between this track and the collaboration between Zayn Malik and Taylor Swift for "I Don't Want To Live Forever," it's safe to say the soundtrack for this movie is going to be a banger -- no pun intended.
Citations: EXCLUSIVE: Nick Jonas Says He Wants 'a Lot of People to Have Sex' to His 'Fifty Shades Darker' Song (ET Online)