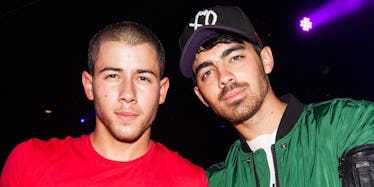 Nick Jonas Third-Wheeled Joe Jonas And Sophie Turner's Date And It Was Adorable
REX/Shutterstock
Nick Jonas crashed a date night between his brother, Joe Jonas, and his brother's girlfriend, Sophie Turner, because if your girl can't kick it with your bro, she can't kick with you, am I right?
Right? That's something that men say, sort of, right?
That's why, I'm assuming, Nick showed up at Craig's restaurant in Hollywood, CA at the same time Joe was there taking out "Game of Thrones" star Sophie Turner on a date on Sunday night.
Nick led the way into the restaurant followed by his 27-year-old brother and the 21-year-old actress, who has been romantically linked to Joe for several months now.
(The couple hasn't confirmed anything officially, but they've been seen out on dates kissing 'n stuff before.)
Nick was wearing a sharp brown button-up suit, which he wore on the Daily Front Row Awards red carpet, the third annual Fashion Los Angeles Awards that celebrates fashion and Hollywood style.
The 24-year-old Jonas left the restaurant by himself, perhaps to be a true bro to his bro and give Joe some time alone with Sophie.
Sadly, but maybe not surprisingly, it looks like the oldest Jonas brother, Kevin, was not invited to dinner.
While it's super cute that Nick would join Joe out on his date, it also makes me feel a little bit sad for Nick's love life.
I mean, a while back, Nick said in an interview his love life was not doing so hot ever since he and his ex, Olivia Culpo, split in 2015.
He said,
It's been challenging to find any time on that front. But it's also a choice I made to just have this season of my life be solo, so that I can make the most of all I'm trying to accomplish.
In fact, it almost sounded like his only real company was his brother Joe. He said,
Joe and I live together in LA. We have a home there together — we're very, very close… My brother Kevin and his wife have a baby and another one on the way.
And now, all these months later, it seems like Nick is still flying solo and leaning on Joe. But now Joe has a girlfriend.
Let's just hope Sophie Turner has slightly more patience than Sansa Stark.