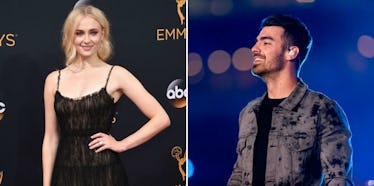 'Game Of Thrones' Star Posts Hot Joe Jonas Pic After PDA-Fueled Dating Rumors
REX/Shutterstock
Last November, "Game of Thrones" star Sophie Turner and DNCE frontman Joe Jonas made major headlines when they were seen kissing at the pre-MTV Europe Music Awards Kings of Leon concert at the Oude Luxor Theater in Rotterdam.
Anne Charlotte of the Netherlands reportedly saw Joe Jonas and Sophie Turner kissing, and she told PEOPLE magazine,
They were really close together. I didn't look very often because I was seated more in front of the room. The two or three times I was watching they were kissing. She was all smiley and he looked really sweet. They seemed pretty comfortable. That's what surprised me.
If the dating rumors were swirling then, they're absolutely rampant following Sophie Turner's latest Instagram post.
The "Game of Thrones" star kicked off 2017 by posting a hot picture of her rumored boyfriend Joe Jonas on Instagram, and her followers couldn't handle it.
To caption the above photo, Sophie Turner wrote,
Miami Daze
What a stud. Who else could make smoking a cigar on a boat in Miami look this cool? OK, maybe Rick Ross, but still.
Naturally, this photo has everyone speculating the 27-year-old Jonas is officially dating the 20-year-old Turner, but we still don't have 100 percent confirmation of their exclusive relationship.
Speaking on the rumored superstar couple, a source reportedly told PEOPLE,
She's always been into him, but he's starting to like her more and more.
According to PEOPLE, another source confirmed they were "dating exclusively," saying,
He was playing the field, but he really likes her and is willing to settle down for her.
Ayooooo!!!
This is amazing -- 2017 is already looking a whole hell of a lot better than 2016, and we're only four days into January.
I don't know why, but I'm really, really into this Joe Jonas-Sophie Turner thing. It feels like they're going to be different than a lot of other Hollywood couples.
Plus, I like Joe Jonas more than Ramsay Bolton, you know?
Congrats, you two!
Citations: Instagram Official? Sophie Turner Shares First Photo of Beau Joe Jonas (PEOPLE)