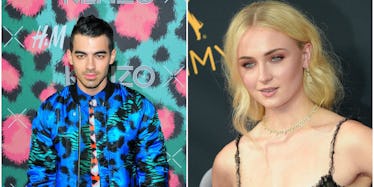 Joe Jonas Packed On PDA With A 'Game Of Thrones' Star And Fans Are Losing It
REX/Shutterstock
In our latest edition of  "Totally Random Celebrity Couple News," we present to you: Joe Jonas and Sophie Turner from Game of Thrones.
We know.
They were photographed getting all up close and personal with each other at a pre-MTV Europe Music Awards Kings of Leon concert at the Oude Luxor Theater in Rotterdam over the weekend.
Does this mean Sophie is about to join Taylor Swift's squad? Because hooking up with Joe is kind of like a rite of passage to get in.
Photos and a video of the two loving each other were taken by an actual human with a name -- not a "source."
Anne Charlotte of Alkmaar, Netherlands, told PEOPLE she saw the pair smooching, so it's pretty much official.
She said,
They were really close together. I didn't look very often because I was seated more in front of the room. The two or three times I was watching they were kissing. She was all smiley and he looked really sweet. They seemed pretty comfortable. That's what surprised me.
Yeah, us too, Anne. This is too random to handle.
Naturally, fans are having a hard time keeping it together.
Apparently, the pair has been hanging out quite a bit. They were pictured as part of a huge Halloween squad last week.
It's not like Joe to stay single for long. As soon as there's a vacancy, it's usually filled immediately -- and with an absolute smoke show.
He was most recently linked to Daiane Sodré. She's a Brazilian model. Nuff said.
At the time, someone told ET,
They're both really happy and see each other as often as possible. She's playing it cool though and happy to take it slow. She gets along with his friends and the band — everyone seems to like her!
Well, looks like that's all over now that he's cozying up with Sophie.
*Fills out application form to become Joe's next partner.*