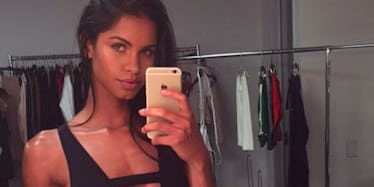 Meet The Smokeshow Model Joe Jonas Is 'Getting Serious' With
Instagram
It's safe to say Joe Jonas is wasting ZERO time with his love life.
The 27-year-old singer is getting extra serious with a smoking hot Brazilian model, and it's not hard to see why. Her name is Daiane Sodré, and she's been Joe Jonas' focus all summer long.
According to Entertainment Tonight, a source close to Sodré says her and Joe are "getting serious" despite the fact that they'd rather keep their relationship private for now.
Can you blame them? Celebrities always have it rough in the dating world!
The source told ET,
They're both really happy and see each other as often as possible. She's playing it cool though and happy to take it slow.
Sure, they might be low-key about their relationship right now, but Daiane Sodré and Joe Jonas could be moving a little faster than they'd like us to think.
Not only have they been spotted out together on multiple occasions, but the source also says Sodré's been getting along with Joe's DNCE bandmates, too.
Here's Daiane posing for an Instagram photo celebrating DNCE's Best New Artist win at the VMAs.
Yeah, this isn't your average fling. The source added,
She gets along with his friends and the band -- everyone seems to like her!
What's there not to like?!
Not to mention, she's an in-demand model with a busy schedule of her own.
Daiane Sodré has posed for Victoria's Secret, Nasty Gal, J. Crew and more.
She's a natural beauty. Joe Jonas is a lucky guy (yet again).
It's gotta be SO hard for Joe to refrain from PDA...
Well, it might not be TOO hard... but that's only because Joe Jonas really hates PDA. In an interview with Women's Health last month, Jonas explained,
No, not at all. Look, when you really like somebody, that kind of goes out the window. But even around friends and stuff, I think you keep that for the bedroom or behind closed doors. Especially at the beginning of the relationship, you've got to be cautious of that.
Yeah, we won't be saying any face-sucking from these two anytime soon! They seem to be doing just fine keeping a good distance between each other during secret outings.
While Joe might be a bit more reserved on the PDA front than the rest of us, he had no problem telling the everyone who he lost his virginity to...
Actress Ashley Greene seemingly responded to Joe Jonas after he told the world (via Reddit AMA) he lost his virginity to her -- and she was NOT happy about it.
Joe, however, insists that he didn't mean Ashley any harm. The singer told ET,
I'm not out to hurt anybody, but I think, ultimately, I'm just telling my stories and what I can say from my heart.
Let's just hope he can keep things drama-free while he gets to know Brazilian bombshell Daiane Sodré.
Hey, this is probably off-topic but does anyone know what Gigi Hadid thinks about this?
Citations: Joe Jonas and Model Daiane Sodre Are 'Getting Serious' But Not Ready to Go Public (Entertainment Tonight)