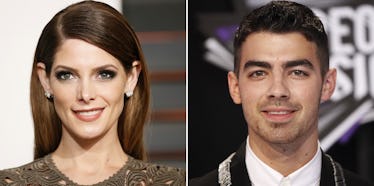 Ashley Greene May Be Dragging Joe Jonas For Opening Up About Losing Virginity
Instagram
"Twilight" star Ashley Greene might not be too happy with Joe Jonas.
If you've been keeping up with Joe, you're well aware of the 27-year-old singer's steamy new music video for his band's new single.
The band, which is called DNCE, dropped its new single titled "Body Moves."
Let's just say it's got the Internet talking (and melting).
Throughout the video, Joe Jonas basically runs around naked with 23-year-old Charlotte McKinney. In other words, Christmas came early for Joe's diehard fans.
Joe Jonas followed up the release of his raunchy new music video by answering questions asked by his loyal fans on Reddit. Here's where things with 29-year-old actress Ashley Greene get tense.
When asked about losing his virginity, Joe Jonas did the unthinkable. He began spilling details about his "first time." Details included the fact that he ditched his purity ring at age 20 and did the deed with a girl named Ashley.
He then said,
It's pretty easy to figure out. I dated a girl named Ashley, so just Google it to figure out which Ashley that is.
Well, Joe, Google is a fucking genius because it pinpointed EXACTLY which Ashley you just put in the hot seat -- and even Ashley knows it.
Ashley Greene seemingly responded to Joe Jonas' spilling of the beans with a cryptic photo on Instagram.
Here's the post.
Damn, no caption?! Yeah, she's PISSED. Well, she might be.
I guess that's the best way to put it.
After all, she never confirmed or denied whether she was subliminally messaging Joe in the first place -- but the timing of the ordeal and the nature of the subject leads us to believe she's very much speaking to Joe through this post.
When was the last time you DIDN'T get in trouble for blabbing about your sex life? It's not a smart thing to do (JOE).
Perhaps the craziest part about this entire thing is that Joe Jonas did not stop there. He continued and went into great detail, saying,
It's quite a great story because I didn't have any condoms, so I went to our drummer Jack's room, who was my roommate at the time, and I demolished his room looking for them. Found them underneath his underwear drawer. When he came home, he thought somebody broke into his room because his whole room was demolished because I was in dire need. Needed to happen then and now. Safety first, kids.
You would think a former member of The Jonas Brothers would know a thing or two about the strict rules against kissing and telling. NOPE.
Citations: Ashley Greene Shares Cryptic Instagram After Joe Jonas Opens Up About Losing His Virginity (Entertainment Tonight)