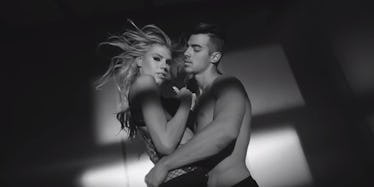 Joe Jonas Strips Down With Model Charlotte McKinney In Steamy New Music Video
YouTube
And y'all woke up for work this morning thinking it was going to be so rough coming back from a long weekend!
Well, the following news might not change the fact your meaningless job is shit, but it will make your life a lot better.
The music video for DNCE's "Body Moves" dropped Tuesday, October 11, and it features none other than two of the sexiest individuals on the face of the planet, 27-year-old Joe Jonas and 23-year-old Charlotte Mckinney.
Like, these two aren't just sexy, they're scorching hot. The above music video should low-key come with a warning about going blind if you try and watch the whole thing in its entirety.
I mean, just look at how "Body Moves" starts off, which Charlotte McKinney's boobs hitting you right in the face -- not that anyone's complaining.
Also, I didn't realize DNCE is the same group that did "Cake By The Ocean," but here we are, right? Moving on, though, because while Charlotte McKinney is hot AF, we have to talk about shirtless Joe Jonas.
Can we just start calling him "Shirtless Joe Jonas"? You know, like the old baseball player, "Shoeless Joe Jackson"?
There's no way Joe Jonas spends more time with a shirt than without. You know I'm right.
While giving me an impromptu erection, this song is also catchy as hell. Like, I'm bout to bump this every Wednesday for laundry night. Shit gets real at my place on laundry night, let me tell you.
Anyway, back to the steamy action in "Body Moves." Ask yourself, would you let your little siblings watch Joe Jonas and Charlotte McKinney get down in this raunchy music video?
Monday, October 10, DNCE received two American Music Awards nominations, New Artist of the Year and Favorite Duo or Group. Speaking on those noms, Joe Jonas reportedly said,
You obviously make music because it's what's from your heart, but also you want to get out there and perform for this audience and the fans that vote and show up to shows and wait outside in the freezing cold to say hi. It's why we do it.
Keep doing you, Joe Jonas.
Citations: Shirtless Joe Jonas gets VERY hands-on with Charlotte McKinney in DNCE's new music video for Body Moves (Daily Mail)