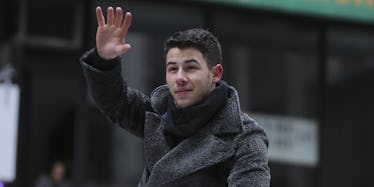 Nick Jonas Says His Love Life Is Struggling So There's No Hope For Any Of Us
Shutterstock
Despite the full-body orgasms his mere likeness inflicts upon unsuspecting women, Nick Jonas has a hard time dating.
Since splitting from ex Olivia Culpo in 2015, Nick has been linked to Kate Hudson, Selena Gomez, Lily Collins, a lady who looks just like Olivia Culpo and other total catches.
Still, he insisted in the October issue of LA Confidential dating is, like, a whole thing.
He explained,
It's been challenging to find any time on that front. But it's also a choice I made to just have this season of my life be solo, so that I can make the most of all I'm trying to accomplish.
After two years by Olivia's side, Nick isn't rushing back toward a life of monogamy and potential heartbreak, though both ingredients lay the groundwork for relatable songs.
The 24-year-old shared,
Heartbreak is a theme that a lot of people relate to — the challenges of the next steps in your life, and when some doors close, and how you approach the next ones opening… I saw pretty quickly that it was a lot of what my fans could relate to. It's nerve-wracking when [the feelings] are as personal as the ones that I shared were. But I feel relieved when I use my writing as a way to process — it's very therapeutic.
While he's taking a break from dating, Nick has his family (and former Jonas Brothers bandmates) to keep him company.
He told the magazine,
Joe and I live together in LA. We have a home there together — we're very, very close... My brother Kevin and his wife have a baby and another one on the way.
When Nick is ready to return to the world of gentle kisses and long bedtime conversations, he'll have plenty of options.
Marry us, Nick. Marry us all.
Citations: Nick Jonas Dishes on His ''Challenging'' Dating Life and Using His Olivia Culpo Breakup as Inspiration (E! News)