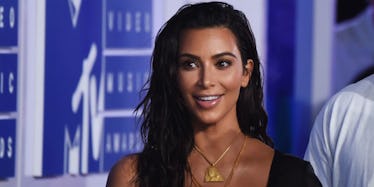 People Think Kim Kardashian Staged Her Post-Robbery Ice Cream Photos
REX/Shutterstock
Kim Kardashian's infamous post-robbery froyo run was probably staged because nothing in this world is sacred.
It's been an odd few weeks for Kim Kardashian.
After surviving an armed robbery in Paris, Kim, who is arguably the most public person in the world, went underground.
She's not tweeting or posting on Instagram, and while "Keeping Up with the Kardashians" is reportedly filming again, she seems to be hiding from the cameras completely.
It's clear she's going through some deeper stuff, and although this probably isn't the only fix, time away from the spotlight is pretty necessary to her recovery process.
One unintended consequence of this is even the smallest Kim K appearance gets massive buzz, like the time she went out for froyo with best friend and prominent *I don't really know what he does aside from hang onto the Kardashian coattails for dear life* Jonathan Cheban.
The pictures were not great.
Yup, pretty rough. You will never see anyone looking that sad while holding that much froyo ever again.
The internet mourned her pseudo coming out event pretty hard.
Kim K looks dead in those pictures of her getting ice cream like no facial expression. It's so sad — carlaa(@_carlitaaa) October 26, 2016
What if this was all a staged coming out, though? What if in order to control the news cycle of her first time back in public she picked a safe public location to grab some no-makeup froyo?
According to industry experts, this was probably the case.
Page Six spoke to an inside source -- reportedly "a marketing pro" -- who thinks as candid as the shot seems, it was actually more of a planned point of exposure for Mrs. West.
According to the source,
She doesn't even eat yogurt — she is on Atkins. That was a staged photo to portray Kim as likable — a shot where she wouldn't be wearing makeup, and not [be plugging] any brands.
E TU KIMBERLY?!?! WE TRUSTED YOU!
Honestly, it wouldn't be the craziest thing if Kim staged these pictures. Celebs often tip off the paparazzi to their locations in order to get some buzz going when they arrive.
Taylor Swift might have gone as far as to stage the entire first half of her relationship with Tom Hiddleston.
A rep for Kim is denying these accusations pretty hard, though, telling Page Six,
She wanted to get out of the house with a friend. As far as being on Atkins — sometimes people have treats while on their meal plan.
So what is it Kim? Are you planning your own photo ops now or did you really just have a frozen treat day with the man responsible for... *seriously, what the hell does Jonathan Cheban do?*
Citations: Was Kim's ice cream outing staged? (Page Six)