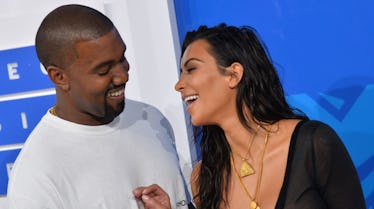 Kanye Gives Kim K Sweet Shoutout As She Steps Out For Second Concert In A Row
REX/Shuterstock
Damn, these two are couple goals. Kim Kardashian is Kanye West's biggest fan and she isn't afraid to show it.
I guess that's why she decided to attend his show two nights in a row, despite keeping a low profile since the Paris hotel robbery.
Roughly three weeks ago, the 36-year-old reality star was held up at gunpoint by five masked men and forced to beg for her life. They also stole millions of dollars worth of jewels, including her second engagement ring.
Kim Kardashian has been off the radar ever since, but now it looks like she's slowly making her way back into the spotlight to support her husband.
At Kanye West's Saint Pablo Tour show in Los Angeles on Wednesday night, the rapper interrupted his set to give his wife a sweet shoutout for being in attendance.
According to an insider who was at the show, Kanye told the audience he was happy to have Kim there. He then played the adorable video montage he made for her on her birthday.
KANYE FREAKING WEST, YOU ARE MAKING MY HEART MELT.
If you haven't watched the b-day vid, then press play and take a seat right now. You will be in tears by the end, I guarantee it. I've watched it like 18 times already and still sob like a baby.
HE LOVES HER SO MUCH.
Kim spent the night with her daughter, North West, her mom, Kris Jenner, and Kris's boyfriend, Corey Gamble. According to Entertainment Tonight, the reality star avoided photographers for the second night in a row.
On Tuesday, photos of Kim attending Kanye's concert surfaced. It was her first public appearance since the robbery and she went with Kourtney Kardashian and her best friend, Jonathan Cheban.
As previously reported by Elite Daily, the family was shooting a scene for "Keeping Up With The Kardashians," but Kim avoided the cameras completely.
She also stayed out of Kourt and Jonathan's Snapchat stories.
Kim Kardashian hasn't broken her silence on social media yet and it's unclear if she ever will. While she takes this time to recover, her fans will be here, waiting and wishing for her to return.
Citations: Kim Kardashian Kanye West Tour (ET Online)