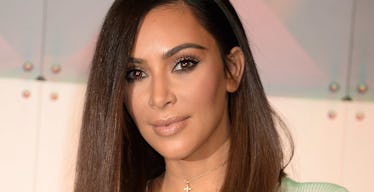 Kim K Attends First Public Event Since Robbery, Hides From 'KUWTK' Cameras
REX/Shutterstock
We all know Kim Kardashian is taking a break from social media... but does that mean she's done being in front of the spotlight forever?
Entertainment Tonight exclusively learned the 36-year-old reality star attended her first public event since the robbery, but stayed away from cameras while her family filmed a new scene for "Keeping Up with the Kardashians."
The mother of two was spotted attending Kanye West's concert at The Forum in Los Angeles.
She was accompanied by her older sister, Kourtney Kardashian, and her best friend, Jonathan Cheban.
Even though the star attended her husband's concert, she reportedly did not participate in filming for the reality series.
Kourt and Jonathan also Snapchatted the evening, but Kim remained out of all the photos.
Roughly three weeks ago, Kim Kardashian was held up at gunpoint inside her Paris hotel room. The star has kept a low profile since the terrifying attack, but on Tuesday night, she started to slowly make her comeback.
Kim has not posted on Twitter, Instagram or Snapchat since the robbery, so it was unclear if the star would return to social media ever again.
We also don't know if Kim Kardashian will return to "KUWTK" post robbery, but it doesn't sound promising based off Tuesday's event.
It's also unclear if the robbery will be addressed on "Keeping Up with the Kardashians" at all.
According to Kim's rep, the star is still "badly shaken" but receiving some professional counseling to help recover.
The other day, new photos surfaced of Kim Kardashian getting ice cream with Jonathan Cheban, but she still doesn't look like herself.
Although things may not be completely back to normal for Kim, it's nice to know she's spending time with family and friends and enjoying their company.
Citations: Kim Kardashian Filming 'KUWTK' (Entertainment Tonight)