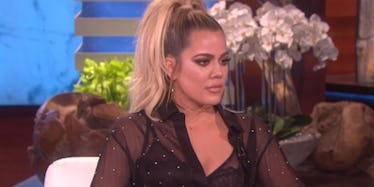 Khloé Kardashian Opens Up About Kim K Robbery: 'She's Not Doing That Well'
Ellen
A week after the terrifying robbery of Kim Kardashian, Khloé has broken her silence on what happened to her sister.
The 32-year-old reality star appeared on "Ellen" to give an update on how Kim is doing since the attack.
Last Monday, the mother of two was held up at gunpoint in her Paris hotel room and forced to plead for her life.
Khloé told Ellen her big sis is "not doing that well" since the incident.
She explained,
I mean, it's incredibly traumatic what happened to her. But our family is super close and great and we'll get through it together, and we do appreciate all of your guys' love and support. It will take time. You know, it was horrible what happened to her.
Khloé discussed the "emotional terror" Kim Kardashian experienced that night and how difficult it is for her to move on from it.
She continued,
It's a wake-up call for all of us... But definitely just to make sure our sister is OK.
Khloé, who canceled some of her book signings for "safety reasons," explained "this is a really serious matter for Kim."
As of right now, Kim Kardashian has not posted on social media since last Monday, but other members of her family have come forward to share their support for the reality star.
Yesterday, Kris Jenner added an emotional quote on Instagram, urging followers to "count your blessings" and hold your family close.
Kourtney Kardashian also shared a biblical verse to provide prayer for her family during this difficult time.
Lastly, Caitlyn Jenner posted sweet words about Kim and reminded followers to "be careful."
It's unclear when -- or if -- Kim Kardashian will speak out about the robbery, but it is clear she'll need more time to fully recover.
Kim, our thoughts are with you and your family. Hang in there.
You can watch Khloé 's full interview with Ellen DeGeneres in the video above.
Citations: Khloé Kardashian Breaks Silence On Robbery (ET Online)