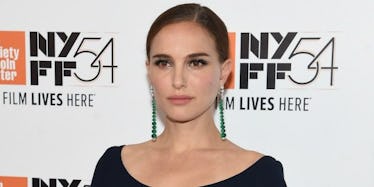 Natalie Portman Revealed Her Secrets To Flawless Skin And It's So, So Easy
Getty Images/ Jamie McCarthy
Sometimes it seems like celebrities have it all: fab clothing, perfect hair, amazing homes, and hot significant others. However, there is one thing that levels the playing field for all of us — acne and skin issues. Everyone has dealt with pimples, even celebrities. I'm sure someone has gotten a big honkin' zit the night before the Met Gala or Grammy Awards and had a total meltdown... it happens to the best of us. The fact that most celebrities look like they have flawless skin is no accident — they all have their acne tricks and skin regimes. So, how do celebrities get rid of acne? The answer is they all do it differently. Surprisingly, their acne tricks are actually very obtainable.
Some celebs swear by their specialty beauty products while others credit a lifestyle change for their clear skin. As the face of Dior's newest fragrance, Miss Dior, Natalie Portman's skin is her money maker. She revealed how she dealt with adult acne during a recent interview with The Cut. The Jackie actress said,
I'm vegan and I found my skin was much, much better when I was vegetarian ... I cut out dairy and eggs, and I never had a breakout after. That was definitely a discovery. It's personal; everyone has different sensitivity.
Many celebrities say diet changes help with acne. Although, Portman does have a few products she swears by.
I wash my face with the Joelle Ciocco face wash and toner. I'll use a little bit of Bioderma makeup remover. Then, I moisturize with Pai — it's organic — and I use their eye cream. They have rose oil. Sometimes, I'll do the moisturizing mask if I'm flying.
Another actress who credits her clear skin to dieting is Kate Hudson. She is refreshingly honest about most things in her life — skin issues being one of them.
Kate Hudson's clear skin is a result of trying different tactics. She said during an interview with Vogue in April 2017,
My skin, like my body, it fluctuates. I'll have three [good] days, and then boom, I've got pimples showing up. I've had a hard time figuring it out ... When I went vegan last summer, my skin was the best it's ever been — skin tone, pores, everything. Then I did Paleo, and what was interesting about Paleo was my skin wasn't as good, but your weight drops.
Back to what Natalie Portman said — you just have to find what works for you.
If you're not ready to give up your pasta carbonara, other celebrities work tirelessly to put together the perfect skin regime. Former Bachelorette JoJo Fletcher has done her homework.
During an interview with Elite Daily in July, Fletcher spilled the goods about her intensive regime. While at the St. Ives Mixing Bar in New York City she dished,
So I wake up. Well, right now especially my skin's been really dry, so I'm really into just moisture, moisture, moisture. So I'll wake up, wash my face, do a good toner, and then I will like layer on – I'll do my sunscreen, I'll do a serum, and I'll do like just a nice finishing moisturizer. But at night, I love to exfoliate, I think it's super important. I think most people only do it once a week. I'll do it three times a week. And then I just pack on stuff. Like I want to wake up in the morning with my face still feeling a little bit wet if that makes any sense.
Fletcher did clarify that she doesn't think everyone needs to use this many products, but her skin is "tough," so it works for her. Her easiest piece of advice was to "exfoliate, and also always hydrate."
[When] you take a shower, I think it's important right after your shower to put on moisturizer because while your skin is still wet it absorbs a lot better. And, like, the worst thing that could happen to someone is have dry, ashy skin.
OK, I honestly feel like I will actually exfoliate and hydrate weekly. The best part of celebrity acne advice is knowing I'm not alone with my skin struggles — acne affects almost everyone at some point in their life.
If you want to get rid of acne for good, you need to find what works for you — whether that's a specific product or lifestyle choice. In the meantime, remember that we've all been there and you're a kween no matter what your skin is like.