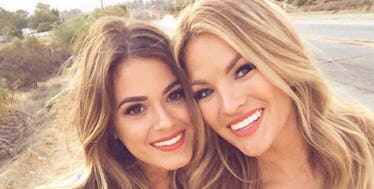 'Bachelorette' JoJo Fletcher On BFF Becca Tilley: "She'll Be In My Wedding" – EXCLUSIVE
Instagram
If you're a fan of The Bachelor and The Bachelorette, you probably know JoJo Fletcher and Becca Tilley are best friends IRL.
Yup, the two may have competed against each other for Ben Higgins' heart in Season 20, but that didn't stop them from forming a lifelong friendship.
Elite Daily had the chance to sit down with former Bachelorette JoJo Fletcher to discuss her skincare routine, wedding plans with Jordan Rodgers, and friendship with Becca Tilley.
When asked how they've been able to stay so close since the end of the show, JoJo says,
She's somebody that I'll have in my life forever ... The greatest thing that came out of being out of The Bachelor is the friendships. With her specifically, she's like my counterpart in a way because we just have so much fun together. We get each other in a way. I mean, she's awesome. I love her.
JoJo also tells me,
Becca is definitely one of my very best friends. She'll be in my wedding. 
My heart, it can't take it! That's just too cute.
Now, if you're curious about JoJo and Jordan's wedding details, don't get too excited just yet.
JoJo says the couple isn't rushing their engagement:
I think when we first got engaged, I was so excited. He was so excited that we said that were gonna get married like ASAP because I think just that feeling it was so exciting. And then real life happens and you move with each other and the you realize that this is something you take your time on. And you enjoy being courted and enjoy being engaged and there's no rush for either one of us. And so when the time is right, we're gonna do it. That's still something that we obviously plan to do, but we're not going to just rush into it because that's what's expected, if that makes sense.
I get it, girl! JoJo, thanks for being so open and honest about your life, relationships, and future plans. You'd get my final rose any day.
(SUCK IT, BEN.)