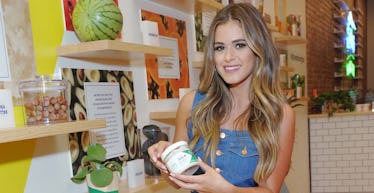 'Bachelorette' JoJo Fletcher's Skincare Routine Will Put Yours To Shame – EXCLUSIVE
St. Ives / Michael Simon
I'm not trying to be dramatic, but I am obsessed with JoJo Fletcher from The Bachelorette. This girl is the cutest, sweetest, happiest, prettiest little bundle of joy I've ever seen in my life.
As great as it was to watch her on TV, it was even better to meet her in person. YEAH, YO' GIRL GOT TO HANG OUT WITH JOJO FOR REAL.
Elite Daily stopped by St. Ives Mixing Bar in New York City to chat with the gorgeous 26-year-old about her skincare routine, life in Dallas, relationship with Jordan Rodgers, and so much more.
I literally was sweating the entire time because she made me nervous, but JoJo liked my Instagram afterwards, which is code for "Hey, wanna eat food and be best friends?"
Now, if you haven't heard of St. Ives Mixing Bar, then you better grab your Metrocard and head to SoHo immediately. From June 16 through September 30, visitors can make custom face scrubs and body lotions from an assortment of ingredients.
I made one, JoJo made one, and you should make one, too. If you need a recommendation, JoJo created a cucumber kale scrub. She shared,
It smells amazing! I mean, all their scrubs are amazing, so I know it's gonna work. But it's fun because you get to, like, concoct your own thing.
A custom face scrub and a custom body lotion are $12 each. They also have speciality candles for $10. You also get to personalize the label with a name, so it makes the perfect gift. JoJo knows how to hook it up.
As much as JoJo loves St. Ives, that's just the beginning of her skincare essentials. The girl shared her everyday routine to have glowing skin and it's INTENSE. Girl's committed AF. She explained,
So I wake up. Well, right now especially my skin's been really dry, so I'm really into just moisture, moisture, moisture. So I'll wake up, wash my face, do a good toner, and then I will like layer on – I'll do my sunscreen, I'll do a serum, and I'll do like just a nice finishing moisturizer. But at night, I love to exfoliate, I think it's super important. I think most people only do it once a week. I'll do it three times a week. And then I just pack on stuff. Like I want to wake up in the morning with my face still feeling a little bit wet if that makes any sense.
JoJo, I literally splash water on my face with my bare hands, look at my dark spots in the mirror, and cry about how ugly I am on the way to work. TEACH ME YOUR WAYS, YOU GODDESS.
JoJo did clarify she doesn't think everyone needs to use this many products, but her skin is "tough," so it works for her. She added,
Vitamin C I think is really good to put on your skin ... And then depending on if I have dark spots or if I'm noticing the sun, I'll do, like, a dark spot corrector ... Sunscreen is so important because, I'll be honest, when I was younger I didn't realize how important sunscreen was. As I've gotten older and I've seen even how dark, like, just my freckles get or hyperpigmentation, it's so key to always use sunscreen. But, I think it's just the quality of your skin too. Seeing how your makeup applies a lot smoother and stuff like that.
Sunscreen and dark spot corrector, THAT'S WHAT I NEED. We are on the same page, always.
JoJo's last bit of advice was to "exfoliate, and also always hydrate." She explained,
[When] you take a shower, I think it's important right after your shower to put on moisturizer because while your skin is still wet it absorbs a lot better. And, like, the worst thing that could happen to someone is have dry, ashy skin.
AMEN, SISTER.
JoJo is perfect, her skin is perfect, and our new, lifelong friendship is perfect as well.
Thanks for the tips, even if you put my routine to shame. (I seriously gotta step it up). LYLAS.