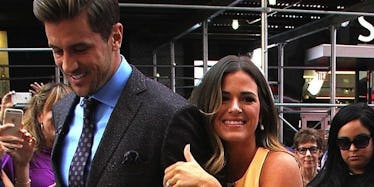 'Bachelorette' JoJo Is Envisioning Babies Before A Wedding With Jordan Rodgers
REX/Shutterstock
Whether we're talking sandwiches or babies: When you know, you know.
And while JoJo Fletcher doesn't seem like a person who eats bread or cheese, she's certain she's ready to start a family with fiancé Jordan Rodgers.
The season 12 stars of "The Bachelorette" talked to PEOPLE about planning their wedding when the age-old practice of bringing new life into this world and raising it to be a respected, honorable member of a greater community popped up nonchalantly.
JoJo told the site,
I keep envisioning babies... And I'm like, 'Wait, JoJo, pump the brakes! Do this in the right order!'
The 26-year-old is working alongside her ex-athlete fiancé to plan their dream wedding before any babies come along.
Jordan said,
We're still planning on next year. We're just taking our time... We're enjoying this time in our life and getting to date each other.
Their deliberate pace toward the altar hasn't stopped JoJo from fantasizing about the big day, though.
With a level of optimistic certainty most people reserve for grilled cheeses, JoJo shared,
I think about my wedding dress and seeing Jordan for the first time and how amazing that will be... I know it will be what I dreamed it would be.
A major concern for many JoJordan fans is whether their wedding will be televised, like their entire courtship.
Last week, JoJo told E! she hadn't "ruled anything out," adding,
I think just whenever we get to that point where we're ready to do it, we'll just see where life is at and we'll just play it by ear.
While it's insane to consider JoJo and Jordan playing such a massive payday "by ear" (there is no such world in which that level of insouciance regarding a reality TV wedding exists), the couple doesn't plan on making any moves until next year.
Quick reminder: It's December, bitches. Next year is already here. LET'S GET THAT WEDDING SPECIAL GOING, ABC.
Citations: The Bachelorette's JoJo Fletcher and Fiancé Jordan Rodgers Dish On Wedding — and Baby! — Plans (PEOPLE)