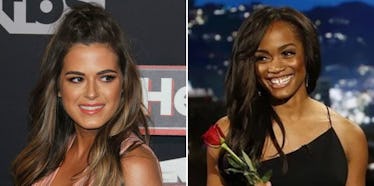 JoJo Fletcher On New 'Bachelorette' Rachel: 'She's Always In Her Head'
REX/Shutterstock/ABC
Competing for love on national television is a unique trauma that only a small percentage of the world understands.
The new star of the upcoming season of "The Bachelorette," Rachel Lindsay, is fortunate enough to have a predecessor willing to share a few useful tips on surviving the season with her sanity in tact.
Season 12 star JoJo Fletcher praised Rachel to Extra on Tuesday, telling the site,
I think she's so smart, she's intelligent, she's confident, so confident, I just think she is the whole package, another Dallas girl! …I had a chance to talk to her not too long ago… When I was saying confidence, I don't think she'll be scared to put guys in place, and I love that.
The dudes competing on "The Bachelorette" definitely need to be put in their place from time to time. (I am obviously talking about you, Chad. You're welcome).
JoJo did warn her successor not to get too caught up in unnecessary details like the guys' hot faces, or ripped backs, or sexy chests, or defined quads or… whatever.
She said,
She's a lawyer — she thinks a lot, she's always in her head. I was gonna tell her try not to be in her head that much but also listen to that mind of yours because you're smart, and don't let your heart get carried away with the looks and the lust, 'cause it happens.
Oh boy, does it. When you're stuck in a sex mansion lit like a dive bar for six weeks with dude after uncomplicated, broad-shouldered dude, hormones begin to influence the decision-making process.
Rachel even told People she's looking for an "intelligent and ambitious" guy of literally any body type.
That is so many body types. Tall and square. Short and square. Medium and square. The possibilities seem endless.
She told the site,
Physically, I really don't have a type. … I'm very open, which I think will be really exciting when the guys come out the limo because I don't know what I'm going to get!... I'm really not picky. I'm a sucker for a great smile. That's probably my favorite physical attribute.
And you KNOW all these guys will at least be able to curl their lips into a smile. Probably.
Keep your wits about you, Rachel Lindsay. They're top-notch, and you're going to need them.
Citations: JoJo Fletcher Reveals Her Advice for New Bachelorette Rachel Lindsay (People)