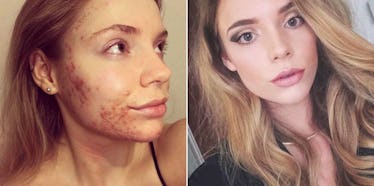 Beauty Pageant Finalist Credits Simple Diet Trick To Insane Acne Transformation
Instagram
Suffering from severe acne can be debilitating. Beauty pageant contestant Rachel Crawley understands the struggle deeply.
The 22-year-old woman, nicknamed "disease face" on social media, has battled horrific acne since she was sixteen, MailOnline reports.
Her breakouts have disrupted her social life and demolished her self-esteem so much that she turned down an opportunity to compete in the Miss Preston pageant when she was 18 years old.
However, the acne warrior recently overcame her breakouts by using a simple diet trick that completely transformed her complexion for the better.
She documented her inspirational journey on Instagram, and now has plenty of followers looking up to her for guidance and support for their own acne struggles.
Rachel defeated her aggressive acne bouts by eating clean and avoiding sugar.
Apparently, the newfound vegan hasn't had a breakout since she changed her diet and began eating natural, raw ingredients.
Throughout the past month, the health-food enthusiast shared her diet changes with her followers online and showed them what kind of foods helped end the breakouts.
In one Instagram post, she expressed how changing your diet could help cure acne better than medication.
She wrote,
No Medication. High fat vegan plant based diet (nothing processed). Real whole foods, natural minimal skin care routine. People are happy to take strong medication that can lead to bad side effects in are bodies but aren't willing to change their diet which is safe and better for our health.
In other posts on her Instagram page, she posted her face-cleansing regimen, as well as different healthy recipes that have helped her overcome acne.
Since Rachel overcame her battle with breakouts, her confidence returned and she agreed to compete in Miss Preston 2017.
Right now, she's a finalist in the pageant. You go, girl.
Speaking of the competition, she said,
Winning would of course be amazing but it's more to show myself I can do it and hopefully give other people confidence to feel good about themselves. I don't want other girls to feel the way I did -- and hopefully I can show them they don't have to.
With her optimistic outlook on her personal struggles, Rachel's bound to be an inspirational figure in the pageant, as well as for anyone who's ever struggled with acne throughout their lives.
Citations: Teenager who was branded 'disease-face' by bullies over her severe acne and refused to leave the house is now a beauty pageant finalist (DailyMail.com)