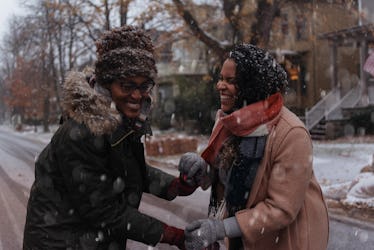 20 Winter Pickup Lines That'll Literally Break The Ice
"Candy-cane I have your number?"
When the winter is getting you down, pickup lines about the cold weather could be the key to turning up the heat. Whether you're newly crushin' on a potential boo or if you've been macking with a cutie for a while — sexy one liners can be a funny and cute way to strike up a conversation or reignite some flirty chitchat. It's easy to feel bummed out by the cold — you don't want to go outside, and if you're at work or in class all day, the sun's already set when you get home. But the early sunsets and cold weather don't have to make those long winter months unsexy. In fact, the wind, sleet, and snow can make for some dreamy dates and some serious sexy talk.
Winter pickup lines about the cold can span from tame, to so filthy you'll be sweating in the snow. Dropping one over text (or even IRL) can be a cute way to show off your personality and make a move without taking yourself too seriously. You never know if a few snow pickup lines can make their heart melt. If you've got your eye on a new sweetie or if you've been talking to your crush for a minute, cold pickup lines may be just what you need to break the ice.
Of course, "You seem really cool, I'd love to go out sometime!" is a good winter pickup line too, but why not go the extra mile? If you've got a crush this winter, try turning up the heat by making a move. Whether you use one of these lines, a brilliant line of your own, or no line at all, I'm confident you'll keep your romance hot, even during the coldest time of year.
This article was originally published on