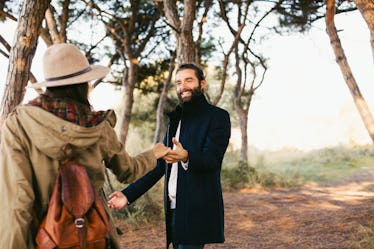 5 Disney-Inspired Romantic Gestures That Are Sure To End In A Happily Ever After
When it comes to grand romantic gestures, no one does it up quite like Disney characters. When these iconic characters fell for each other, they fell hard — and they weren't afraid to show it. When they wanted to win their object of affection over, they didn't do so by sending a late night text asking "U up?" or by liking their crush's Instagram post. Instead, they put their hearts on the line with big risks — and as we know from watching these timeless flicks, those risks always paid off. So, if you're looking for romantic gestures to show your partner you love them, why not take a cue from some of your favorite characters?
There's certainly no shortage of inspiration at your fingertips. Who could forget Cinderella waltzing with her prince or Rapunzel and Flynn's evening boat cruise with floating lanterns in the sky? What about when Nala affectionately nuzzles Simba in the Pride Lands of Africa, or when Eve plants a kiss on WALL-E, and literal sparks fly (because they are robots, of course)? Don't even get me started on Aladdin showing Jasmine the world on a magic carpet ride.
Alas, here are just a few Disney-inspired gestures that are sure to infuse a little fairytale romance into your relationship.