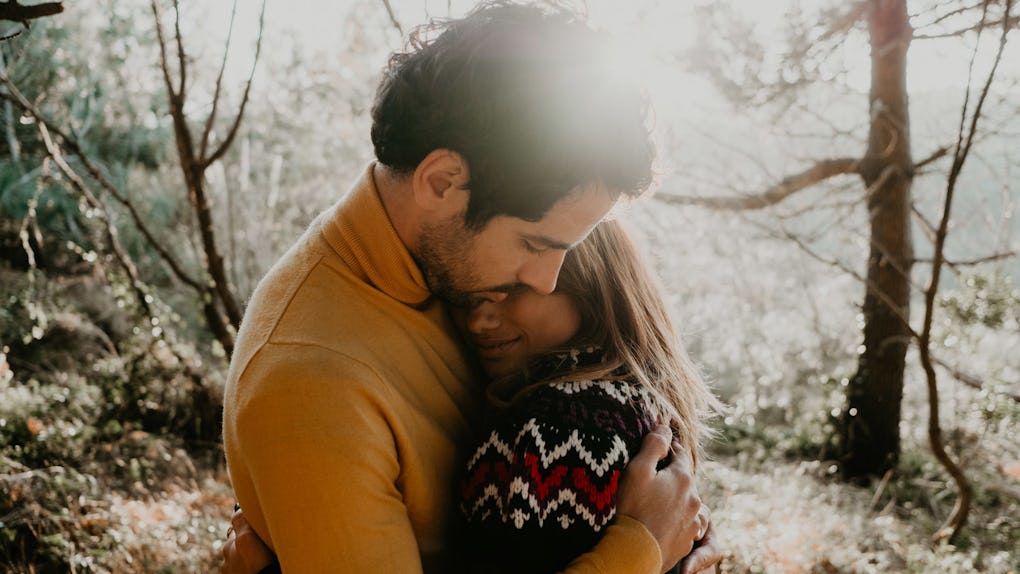 Stocksy/azulclaritocasiblanco
7 Grand Romantic Gestures By Women Who Swept Their Partners Off Their Feet
You might have heard that women like to be swept off their feet, but I personally really dig having both my feet firmly planted on the ground. That way I can keep my wits about me, go in whatever direction I choose, and be the one to do the sweeping! There's something sweet and wonderful about surprising your partner with a big romantic gesture, and these stories of grand romantic gestures by women prove that to be true! While it's true that not all romantic gestures have to be The Notebook-level epic and it is the thought that counts, sometimes it's fun to get a little dramatic with your displays of affection!
In relationships, you might usually find yourself celebrating the big moments — Valentine's Day, anniversaries, and birthdays. But sometimes it's really special to take time to make the normal days feel special, too. Whether it's going out of your way to make your partner feel loved, heard, and adored, or simply running an errand you know has been weighing on their mind. Grand gestures don't need to come in the form of gifts or things that cost money, and sometimes your time, love, and words are the most truly priceless gifts. So for your daily dose of swoon, read on for some of the majorly romantic gestures real women did for their partners.
Rewriting A Love Story
I told my boyfriend my favorite book was A Giving Tree by Shel Silverstein and he very woke-ly informed me that it was about a narcissist taking advantage of the tree's unconditional love. I re-read the book through that lens, then the next Valentines' Day we decided to just get small gifts for each other — nothing too crazy. So I bought him a special edition of it, and then in pencil re-wrote over the existing story to make the love story equal between the tree and the boy. It meant a lot to my boyfriend that I listened to his opinion and created something new from that perspective.
- Laura, 32
The Happiest Birthday
My boyfriend and I were doing long-distance during college, and he seemed particularly bummed to be apart on his birthday. We usually threw a big party and he was sad I couldn't be there... Of course, I secretly booked a flight and flew home to surprise him! It might not sound like a huge deal, but I had to take two planes, have a friend come pick me up and drive an hour to his school so it felt like a big gesture to me! He was beyond surprised and it was one of the best birthdays ever!
- Evie*, 26
Thankful For You
It was Thanksgiving and my guy and I were each with our families for the holiday. He and his fam were going through a tough time, since his grandma has recently passed, but I got a lot of pressure to visit my family, so we weren't together. He just seemed so down, so at the last minute, I hopped on a plane and surprised him just in time for Thanksgiving dinner. My family understood, and it was really appreciated.
- Carly*, 24
52 Reasons Why
My boyfriend and I agreed that we wouldn't spend money on anniversary gifts, and instead, just go all out on a trip for our anniversary weekend. At first, I was fine with that, but right before our trip, I realized I would miss giving him something creative and thoughtful. I stuck to our $0 spending limit by writing out 52 reasons I love him on index cards — one for every week that we had been together. I gave him the stack of cards on the first night of our trip, and it was really sweet to sit together and read through them all.
- Hannah, 25
Puppy Love
My boyfriend had just adopted a dog when he had a family emergency and had to go home. He wasn't sure how long he'd be gone for and he didn't have a roommate to help take care of the pup so he was considering taking it back to the shelter. He was devastated. I was working crazy long hours but I said I'd take care of his dog for however long he needed. Turned out my boss is a huge animal lover, and the puppy was a total sweetheart and hung out under my desk every day! I sent my guy a photo each day of his dog being very productive at his new 'job.'
- Lily*, 26
Clean Up Crew
During a particularly stressful month at work for my girlfriend, her apartment had turned into a total disaster. She was running out of clean clothes, had no food in her fridge, and the place was a mess. I let myself in early one day and completely cleaned it from top to bottom, stocked the fridge, and did the laundry. The relief and appreciation on her face when she walked in after a long day was totally worth it!
- Jen, 28
Cake, Cake, Cake
I am not good in the kitchen and have certainly never tried to bake a cake. I had just started dating my boyfriend and his birthday was coming up, and he mentioned his favorite cake that his mom used to make. I found her on Facebook and asked her for the recipe. It was pretty complicated — at least to me — but I figured it out and it actually turned out great! He was really surprised and touched and I also scored total mom points!
- Kelly, 24
So while treating your boo to a date night or surprising them with a little gift here and there is totally awesome and sure to keep the spark alive, sometimes it's awesome to go big or go home! Everyone deserves to be swept off their feet once in a while, so if you're considering treating your honey to a grand romantic gesture, take some inspo from these awesome women!
*Name has been changed.