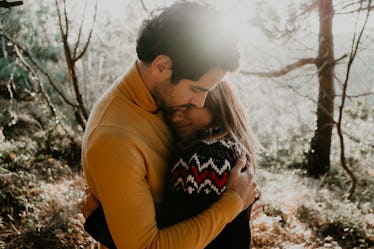 7 Women Reveal The Grandest Romantic Gestures They've Made & They're Jaw-Dropping
You might have heard that women like to be swept off their feet, but I personally really dig having both my feet firmly planted on the ground. That way I can keep my wits about me, go in whatever direction I choose, and be the one to do the sweeping! There's something sweet and wonderful about surprising your partner with a big romantic gesture, and these stories of grand romantic gestures by women prove that to be true! While it's true that not all romantic gestures have to be The Notebook-level epic and it is the thought that counts, sometimes it's fun to get a little dramatic with your displays of affection!
In relationships, you might usually find yourself celebrating the big moments — Valentine's Day, anniversaries, and birthdays. But sometimes it's really special to take time to make the normal days feel special, too. Whether it's going out of your way to make your partner feel loved, heard, and adored, or simply running an errand you know has been weighing on their mind. Grand gestures don't need to come in the form of gifts or things that cost money, and sometimes your time, love, and words are the most truly priceless gifts. So for your daily dose of swoon, read on for some of the majorly romantic gestures real women did for their partners.